Posted by QuickFit Blinds & Curtains on 3rd Sep 2019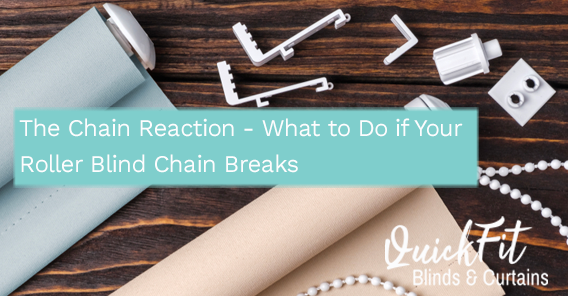 We regularly get asked what to do if your roller blind chain breaks. All too often the chain can get pulled in the wrong direction or pulled with too much force which may cause the chain to pop out of the wheel. Once the chain has come away from the wheel mechanism you'll no longer be able to open or close your roller blind. Luckily, most roller blinds use the same simple chain mechanism and the good news is that these mechanisms are relatively easy to fix or replace.
Repairing your

roller blind chain
Start by removing the entire roller blind from the window bracket. If your roller blind is in the closed position roll it up using your hands to stop the blind being damaged whilst you work.
Next lay the blind on a flat surface and remove the entire chain and wheel mechanism. Once this has been removed you will need to access the inner section of this mechanism. You will need a standard screwdriver for this.
Once you have accessed the inner mechanism you should be able to readjust or 'rethread' the chain so that it lays flush inside the wheel once again. There is a small cap inside the mechanism that you can pull away carefully in order to position the chain.
Now that you have the chain back in its correct position, it's then time to carefully push the cap back into place and fix with the screw to keep the chain in position. Avoid tightening the screw too much and be sure to hold all parts into place whilst screwing.
You can now reattach the mechanism to your roller blind ensuring the semi-covered part of the mechanism will sit up at the top of the blind. And hey presto, you're roller blind is as good as new!


Replacing your roller blind chain
Many people may think a broken roller blind chain means it's time to replace your entire roller blind but this is certainly not the case.
If your roller blind chain or wheel mechanism is completely broken or you are unable to fix it you can simply replace the mechanism. Quickfit Blinds and Curtains stocks Roller Blind SideWinder and Pin End Spare Parts which are inexpensive and easy to install. Each spare part set includes a sidewinder, a 1800mm chain and a pin end.
Simply remove the broken or damaged mechanism by following the first two steps mentioned above and install the new mechanism in minutes.
If you're having issues when attempting to repair or replace your roller blind mechanism there are a number of articles and videos online that will provide you with step-by-step instructions.