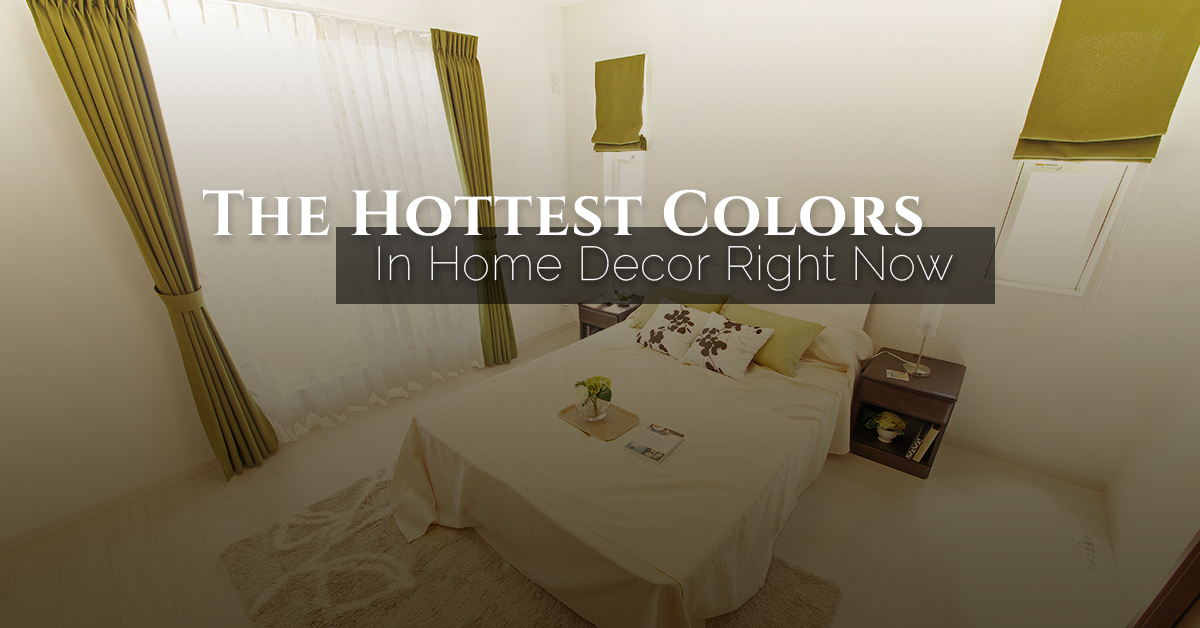 If you've been looking around your house and feeling like it could use an update, now is the perfect time to get started. The holiday season hasn't arrived yet, but it will be here before you know it. You might as well go into it with your home looking its absolute best. That means it's time to give your old room new life with some remodeling and redecorating!
Home remodels can be anything from changing out the throw pillow on your sofa to a complete home makeover that requires professionals and permits. Whatever scale you choose for your home makeover, it's important to go into it with a plan, and the best way to start your home renovation planning is with a color palette. This is a vital first step that will inform the rest of your project and set the tone and feel for your finished room.
Colour palettes are something we know a lot about here at Quickfit! We work with professional designers and proud homeowners who are looking for curtains online that match their current (or future!) colour palette. That's part of the reason we offer such a great range of colour options when it comes to your curtains and blinds; we understand that your window treatments play an important role in the overall look and feel of your home, and we want to make sure you can find something in our online store that just right.
We also pay a lot of attention to colour palettes so we know what's hot, what's out, and what's coming up next. Our team tries to keep our fingers on the pulse of the hottest colour trends in home decor. If you are planning to start your home makeover, here are some of the colors that we're seeing used more and more. They might inspire your next makeover!
Hot Colours in Home Decor
The current color trends are taking the gorgeous neutrals that filled our homes over the last decade and giving them a touch of drama with deep, rich jewel tones. Check out some of these options:
Pops of Red
Red is a colour we haven't seen much of in home decor in the last few years, aside from the classic modern colour palette of red, white, and black. But you'll find red making more appearances these days, especially running towards the rust and orange-red hues. It's a great colour to add to your living space to pump up the drama or add to your kitchen to give it some more personality. Don't be afraid to let your reds skew slightly more pink, too.
Deep Turquoise
Light turquoise has been a popular colour on and off over the years when it comes to home decor, but now we're seeing more and deeper rich turquoise colors making an appearance. It's a gorgeous accent wall colour and you'll find many options for home accessories in this colour, too. We love it paired with soft white for a room that feels both beachy and dramatic. This in-between shade of blue and green is easy to pair with other colors, too, in order to create a cohesive look to your room.
Perfect Plum
Purple is a colour that we don't see a lot of in home decor; it's often thought of as too bold, too girly, or too hard to match. Rich plum colors are showing up more and more in home decor right now, though, and we absolutely love the trend. Plum looks great when paired with golden yellows or emerald greens, giving you even more options for bold home hues. Purple is the traditional colour of royalty, so you can count on this hue to bring a little royal elegance to your life.
Emerald Green
This beautiful shade of green seems to be everywhere right now, and for good reason. It looks terrific when paired with so many different colors. We've seen beautiful emerald-green-and-blush bedrooms and stunning emerald-green-and-ochre living rooms, so it's as versatile as it is rich. Using this shade is like adding automatic sophistication to your space. Try it in your bedroom or bathroom, and don't forget to decorate with the ultimate emerald green accessories: living plants!
Jewel Tones Aren't Your Only Options
If you aren't a fan of jewel tones, don't lose heart! There are tons of other great colors making an appearance in home decor at the moment. If you prefer to keep it more neutral, consider adding duck egg blue to your colour palette. It's a sweet combination of gray and blue that compliments any room in your home. Or turn to taupe, a once-forgotten colour option that's now being recognised for its elegance. The great thing about decorating in a neutral pallet is that you'll never have to worry about your room going out of style; it's a classic look that will withstand the test of time. You can always keep the main areas of your room in a neutral colour palette and simply switch out the accessories when you need a little more colour in your life!
Get the Curtains to Match Your Next Colour Palette
Have you selected the color palette for your room makeover? We have the curtains to go with it. Whether you want a beautiful neutral that works with any color that you choose or you want something bold to coordinate with your new favorite colors, we're sure to have it. Check out our online selection to see what we have in-store for you. Don't forget that Quickfit offers both ready-made curtains and made-to-measure curtains so you can get exactly what you need, depending on your timeframe and your budget. Place an order in our online store and take advantage of our flat-rate shipping fees anywhere in Australia!