Posted by Emily Wang on 6th Apr 2023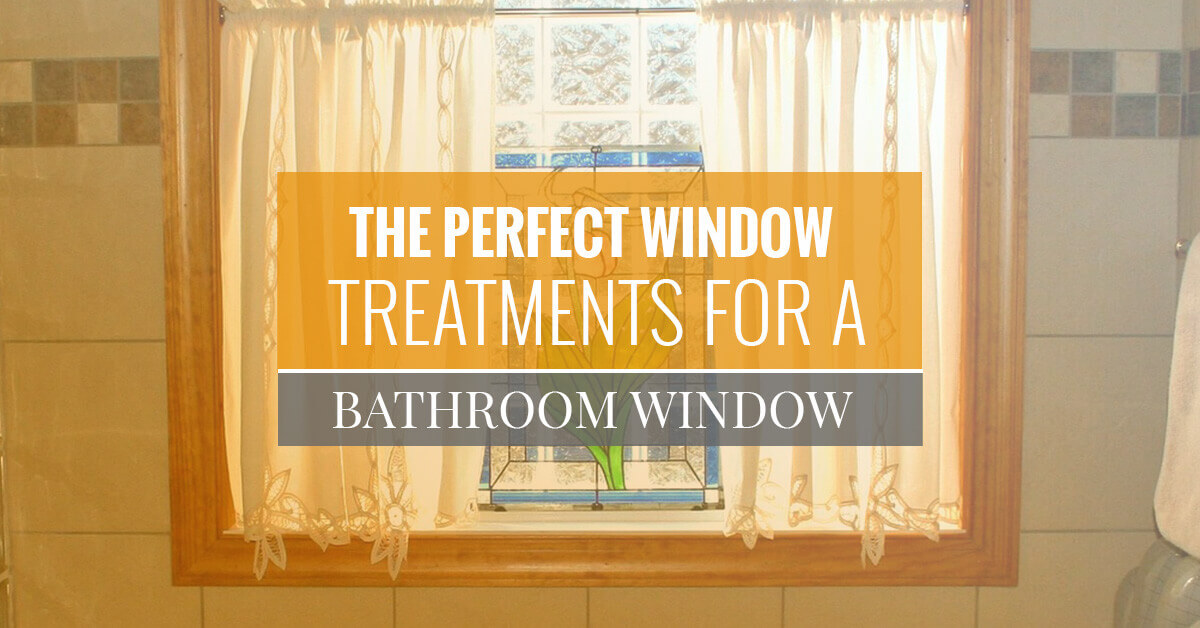 A window in your bathroom is both a blessing and a curse. But with the right window treatments, it can be the designer focal point of the space and add a lot of character to an otherwise boring and bland bathroom. This is our complete guide to bathroom windows, including the pros and cons, special considerations to take, and three options to make your bathroom windows look their very best.

The Pros and Cons of a Bathroom Window
Pros
Natural light is always a great thing! The more light, the better, even in the bathroom. After all, it's a lot easier to block out unwanted light than it is to bring more in. That natural light is great if you apply your makeup in the bathroom, too, because you'll be able to see the colors in bright natural light. Sunlight is good for drying out the damp bathroom environment, too, preventing the growth of mold and mildew.
Cons
The worst part of a bathroom window is clear: the fact that it's clear! You do some of your most private activities in the bathroom, and you certainly don't want to leave yourself exposed. Your neighbours don't want to see what's going on in there, either. So finding the right window treatments that look good and provide adequate privacy is important! All that sunshine first thing in the morning can grate on your nerves, too.
Special Considerations for Bathroom Window Treatments
Bathrooms are wet environments. You'll want to choose window treatments that are moisture resistant so mildew and mold don't become concerns.
Bathrooms can be fairly dirty environments, too. Make sure that whatever window treatments you choose are easy to clean either in the washing machine or in the bathtub.
Consider any light issues. While natural light might be a nice thing once in a while, you might not appreciate the bright morning sun first thing in the morning. Consider looking for blockout curtains or blinds.
Three Great Options for Bathroom Windows
Roller Blinds
Roller blinds are an excellent option for bathroom windows. You can shop our blinds online and find the colour that's right for your bathroom decor, as well as made-to-measure roller blinds for difficult to fit windows. Roller blinds are easy to clean; just take a cloth and wipe them down. They are also available in blockout material so you can keep the bathroom dark until you are ready to face the sun.
Sheer Curtains
Sheer curtains are another great option for bathroom windows. They can be thrown in the washing machine when needed and dry quickly so there is no moisture left for mildew to stake its claim. They are available in our curtain shop online in a huge variety of colours, too, so you can find something that's perfect for your bathroom. Consider ordering made-to-measure sheer curtains that end at the bottom of your window frame to prevent mildew build-up. Sheer curtains are great for filtering the sunlight and helping you retain privacy in the bathroom without shutting out the light.
Or Go For Both!
This might be the perfect solution for your bathroom! When you pair roller blinds with sheer curtains, you'll get the best of all worlds. You'll be able to block sunlight when needed, or just filter it when you need softer light. The combination looks great together, too, and adds a lot of style to a small space. Pick coordinating colours or be bold and pick contrasting hues for a little more drama. Either look is a winner, and we'll even help you find the right shower curtain to complete the look!
Find Everything You Need For Your Bathroom Windows
When you need to find the right window treatments for your bathroom, Quickfit is where you need to buy your curtains and blinds online. Check out our selection of ready made and made-to-order online blinds and curtains and choose the look that's right for your bathroom. We can have your new custom curtains at your door in as little as 10 days. We also ship every order within Australia for just $9.95 flat rate shipping! We're making it easy to dress up every window in your home. Find everything you need and place an order through our website today!