Posted by Emily Wang on 6th Apr 2023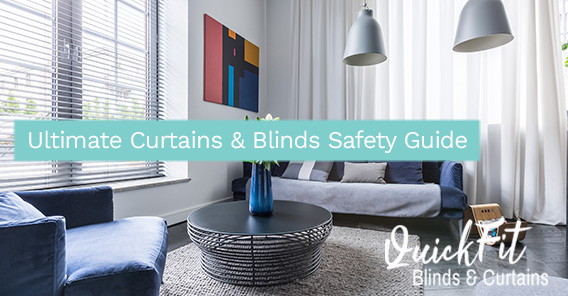 If you share your home with pets and children, you'll know how important it is to keep all parts of the home safe and free from potential hazards that may cause harm to the more vulnerable ones we live with. Pointed edges, stairs, hot stoves and bathrooms are some of the common "hazard areas" in the home which most pay close attention to. However, have you ever considered the potential risks that your window treatment may pose? In today's article, we have a look at the ultimate curtains and blinds safety guide that will help you ensure that your home is the safest place for your pets and children. Read on to find out more!
Curtain Safety
Curtains can sometimes pose as a fire hazard when children are running around or playing with items that they should not be playing with such as candles or matches. Unfortunately, no matter how careful you are with storing these dangerous items, one cannot write off the fact that little ones won't find a way of getting their hands on them. Here are some tips on how to keep your curtains safe for your little ones and pets:
Avoid Floor-Length Drapery
With little ones roaming wild and free in the home, it is always recommended that floor-length drapery be avoided at all costs. Floor-length drapery is something that toddlers and pets may choose to hand/swing on or even worse, climb up. In order to avoid potential injury, we highly recommend made-to-measure curtains that will allow you to choose exactly how long you want your drapery to be.
Hide Curtain Cords and Loops
Another kid's blinds safety factor that may pose a danger to children is curtain cords and loops. It is important that you thoroughly check all the rooms in your house for any curtains with long cords that are either loose or looped. This is especially important for cords that are within children's reach at floor level or near items of furniture such as chairs or small tables that they can climb on. You can also buy simple curtain cord safety devices for this purpose.
Keep Furniture Away
Toddlers love climbing on any and everything they can find, as do pets such as cats and dogs, which is why it is always recommended that you avoid placing furniture such as highchairs, playpens, couches, chairs, tables or bookshelves near windows where children or pets are able to reach the curtain cord.
Keep Flammable Objects and Products Away
Possibly one of the most important points for Venetian blind safety is to ensure that you keep flammable items and objects as far away as possible from your window treatment. Curtains are made of flammable textiles and fabrics/synthetic fibres, which pose a high fire hazard, especially when there are unpredictable children running around the home. Always ensure you keep items such as matches, blowtorches, lighters, flammable liquids and any other substance that may cause a fire hidden and far away from your child's reach.
Another question we often get asked is "can curtains catch fire from a radiator?". The simple answer here is yes. If you have no choice but to have your radiators near your windows, we highly recommend choosing blinds instead.
Blinds Safety
If you prefer the option of blinds over curtains, there are also a number of factors to consider when ensuring that your blinds are as safe as possible and do not pose a threat to children and pets.
Choose Cordless Shades and Blinds
One of the best ways to ensure that children and pets don't get caught up in cords is to opt for cordless blinds and shades. Exposed cords pose a strangulation hazard to infants and young children which is why it is best to either keep them hidden at all times or simply opt for a cordless option for better peace of mind. Alternatively, you could purchase a curtain/blind cord safety device that works for all types of blinds including roller blinds, Venetian blinds and many more.
Furniture Is a No-No!
Similar to the point made for curtain safety, it is always advised that you keep items of furniture such as tables, cots, playpens, chairs and cupboards away from your window. This will ensure that your pets and children don't climb up on furniture and have easy access to your blinds. Aside from the blinds posing as a safety threat to young ones, falling off furniture is also another common occurrence which you will want to avoid at all costs.
Supervise Children and Pets
One of the best ways to ensure the safety of your pets and children is to make sure they are always supervised when they are in rooms that have blinds or curtains. Unfortunately, accidental strangulation can happen very quickly which is why children should be watched closely and not be left unattended to for even a few short minutes.
-----------
By paying close attention to your window treatment, whether you choose blinds or curtains, you will be able to ensure the safety and wellbeing of your little ones and pets. If you happen to live in a rental unit, seek help from your landlord or real estate agent to ensure cords and chains are out of reach. We hope that this article has given you insight into some of the many ways in which you can make your home a safer environment for all who live in it.
Disclaimer: The advice given in this article is general, and not meant to be a substitute for professional services/assistance in keeping your blinds and curtains safe for children and pets.