Posted by Emily Wang on 6th Apr 2023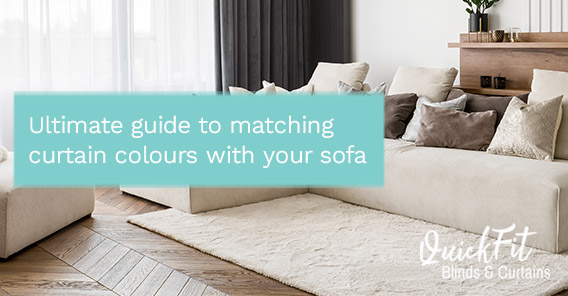 Creating a warm and inviting space in your home calls for some savvy interior decor tips and tricks. One of the first things that anyone notices especially in a living area has got to be both the couch/sofa and your window treatment. This is why it is crucial to coordinate your curtains with the sofa to anchor your living area; both these aspects of the living room create large blocks of colour and when they match, your decor looks balanced, intentional and complete. In today's article, we look at the ultimate guide to matching your curtain colours with your couch or sofa, so read on to find out more.
A Few Things to Consider
Before we go crazy on the colour matching, it is important to note that you don't need to go out and purchase a brand new sofa just so that they match your curtains. Any couch that you already own will do, and by using the base colour of your sofa, we will be able to find the best curtains to match your interior decor.
What Colour Curtains Go With a Grey Sofa?
We'll start off with one of the most common sofa colours - grey. Grey sofas are a fantastic option for those who have children or pets as grey tends to be incredibly forgiving when it comes to messes, stains and spills. Grey also offers a fantastic neutral base for you to match your curtains with. If you're going for a monochromatic feel, we highly recommend opting for drapes in a slightly different shade of grey or white to really complement the tones of your couch. Other more contrasting colours that work beautifully with grey include muted or baby pinks, light yellows or even a lime green for those who want a more eclectic look.
Colours to avoid with grey curtains: Browns are a definite no no if you have grey curtains, along with bright reds and oranges.
What Colour Curtains Go With a Brown Sofa?
Brown is yet another incredibly popular colour option for sofas. Similar to grey, it is also very forgiving and won't look run down, stained or dates after a few years. The great news is that many different colour curtains work fantastically with a brown sofa. The most obvious colour that truly compliments a brown sofa is white. White and brown shades work great together and can create a warm ambience and cosy feeling in your living room. If you want to go the adventurous route, you could even opt for blue drapes that match incredibly well with brown. Ideally, you'd stick to cooler hues of blue such as navy and cobalt blue for a very sleek and classy finish.
Colours to avoid with brown sofas: Blacks and greys are a definite no-go for curtains when it comes to a brown sofa!
What Colour Curtains Go With a White Sofa?
If you own a white sofa, we take our hats off to you -- keeping a white sofa clean is an ongoing task that requires utmost care and patience, you superstar! Now, when it comes to a white couch, Bob's your uncle. Almost any colour will pair incredibly well with a white sofa. If you're going for a more clean and bright look, we highly recommend opting for drapes in colours such as off white, cream or beige. If you're looking to make a statement, high-contrast colours such as black, red or even navy blue are great options that will create a true pop of colour in your room. Looking to create a soft and cosy vibe? Then pastel shades may just be your best friend. As you can see, white is probably one of the easiest colours to match even if it means being extra careful with that glass of red wine!
Colours to avoid with white sofas: None, it's your lucky day!
What Colour Curtains Go With a Black Sofa?
Similar to white, black is one of those colours that just seems to go with anything. If you're a fan of gothic interior decor, then choosing black curtains to go with your black sofa will create an incredibly grand and Victorian look in your home. Do keep in mind that this will dim your overall ambience and may even make your space look smaller than it actually is. If black curtains aren't vibing with you, then a high contrast option such as white is a great way to add some monochromatic style to your living area. Prefer a more retro look? Then shades of brown, orange and beige are the perfect options that will bring you straight back to the 70s.
Colours to avoid with black sofas: Yellow comes to mind, but if you're into that look, go for it!
What Colour Curtains Go With a Red Sofa?
Red sofas aren't all that common of a sight, but if you happen to own one, you may be scratching your head wondering what the heck you're going to do when it comes to complementary window treatments. One of the most popular options for a red couch include solid red velvet drapes with zero warm undertones. Always opt for a muted red with cool undertones, or neutral options such as whites, creams or even black.
Colours to avoid with brown curtains: Orange, Yellow, Pinks and Purples will clash way too much with a red sofa.
Other Factors That Come Into Play
Obviously, the colour of your sofa isn't the sole factor when it comes to deciding on the perfect coloured window treatment. It is always important to look at factors such as wall colour, the overall colour scheme you have built in the room and the various accessories, accents and decor that brings the entire room together. The amount of light you want entering your home will also play a huge part in the colour you choose.
Happen to have a paisley sofa that happens to be a jumble of different colours? You're in luck. Pick your favourite colour from the pattern and purchase a pair of solid colour curtains in the same colour to perfectly match your couch. Of course, the same concept applies to patterned sofas and couches.
_____________
Curtains and drapes offer a wide variety of options in terms of colour, design, fabric and pattern to pair with your gorgeous sofa, no matter the colour or style what colour and style. If you need assistance in matching your sofa to your drapes, don't hesitate to reach out to us at 0422584155. One of our expert team members will be ready and willing to help you find your perfect match!