Posted by Emily Wang on 6th Apr 2023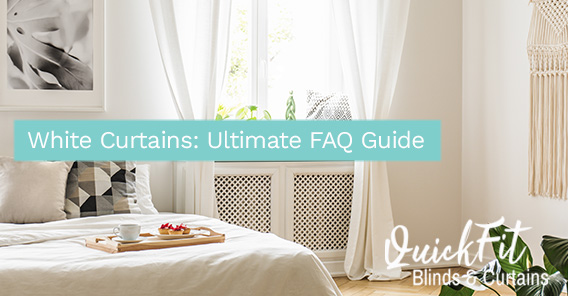 As any house-proud interior decorator will tell you, the importance of decorating a room with curtains that complement the tone, existing décor, colour scheme and your own personal taste is paramount. The wrong curtains will be an eyesore on your meticulously designed room. The right curtains will add to the ambience of the room, making it feel warm and welcoming.
However, choosing the right curtains is not a simple decision. You'll have to decide the colour, fabric, length, and lining. Then there's the choice of custom-made or off-the-shelf curtains and, of course, how much you want to spend.
Design trends come and go. In years gone past, floor-sweeping window drapes, rich in colour and design, adorned homes. Today, homeowners tend to favour simple, understated design with hidden tracks and scaled up designs. This includes white curtains.
So, if you're considering hanging white curtains in your home, here's the ultimate guide of everything that you need to know.
Do White Curtains Let Too Much Light In?
One of the more common reasons that people choose to not hang white curtains is that they let in too much light compared to darker shades of curtains or blackout blinds. However, how much this bothers you really depends on where you choose to hang them.
Obviously, if you choose to hand white curtains in the bedroom, you should expect light to stream through the windows when the sun rises. However, if you're an early riser then this may not bother you too much.
However, you do have some options. Sheer curtains have a low light filter which means they block the least amount of light. Unlined curtains have medium light filtering and are slightly better at blocking light. Lined curtains offer better still light filtering, although don't expect them to shroud the room in darkness. Blackout blinds and curtains shield the room from as much light as possible.
In the end, the choice is yours. If you're someone who needs a pitch-black bedroom the get a good nights' shuteye then white curtains are probably not your best option. However, if you love nothing more than being drenched by the morning sun when you sip your first coffee, then adding white curtains to your kitchen or breakfast room is a great idea.
Are White Curtains a Bad Idea?
Although they bring a delicate warmth and homeliness to any space in the home, soften windows and offer a touch of privacy whilst allowing for an abundance of natural light, for some white curtains may not be the best idea.
Why? Well, for starters, white is notorious for getting dirty. Hanging white curtains in a room like the kitchen where food and water splashes are inevitable may not be the best idea. So too is hanging curtains in a living room where small children play – we all know that muddy footprints and dirty hands are inevitable, and you don't want kids playing hide and seek and dirtying your pristine curtains!
However, for those comfortable living areas where adults spend much of their time relaxing, white curtains are a great idea. Why? They contribute greatly to creating a clean, homely ambience.
How Do I Wash White Curtains?
Over time white curtains can become dulled, even looking grey after years. Dirt, dust, steam, and smoke all discolour the once pristine finish. However, brightening white curtains is not as difficult as you might think all you need to do is to follow these steps.
Step One
Take the curtains down and vacuum the fabric. Remember to empty the vacuum bag afterwards because it could be contaminated with mildew spores. If you find that vacuuming doesn't do the trick, try brushing the fabric with a bristled brush. Do this outside – you don't want to spread mildew around the house.
Step Two
Remove the stains from the material using Curtain Magic Mould or a similar product. Hopefully, this will remove any stubborn stains that have been washed into the fabric. Choose a pot large enough to hold the curtains and boil water.
Step Three
Use a wooden spoon to push the curtains into the hot water and lemon. Soak the curtains for an hour and then wash as normal, making sure to check the label for the washing instructions. If you can, hang the curtains in the sun to dry.
Step Four
Next, soak the curtains in the washing machine with baking soda and laundry detergent. Use the recommended amount of bleach for the water level that you choose and add a quarter of a cup of baking soda and laundry detergent. When the washer starts to agitate, turn it off for an hour, then turn it back on and let it complete one wash cycle.
Step Five
Once you've completed this wash, immerse the curtains in warm water, laundry detergent and a quarter of a cup of detergent. It's best to use a well known dishwasher brand that has designated settings for washing different materials. Once completed, rinse and then hang out to dry.
Step Six
The final step when considering how to wash white curtains is to place them in the washing machine again, add laundry soap and one cup of white vinegar. The vinegar will remove any soap deposits from the material.
Where Do I Buy White Curtains?
Whether you're looking for sheer or blackout curtains, you need to make sure that you choose a retailer who has a vast selection of curtains at a price point that matches your budget. This is exactly what QuickFit offers.
Browse our website today and you'll discover a wealth of white curtains, in addition to many colour palettes to suit traditional and contemporary design. Choose from bespoke, ready-made curtains and bespoke curtains, pencil pleat blackout curtains and eyelet curtains – you can even design your own curtains!
Interested in learning more? Explore our range today and transform your home.