Posted by Emily Wang on 6th Apr 2023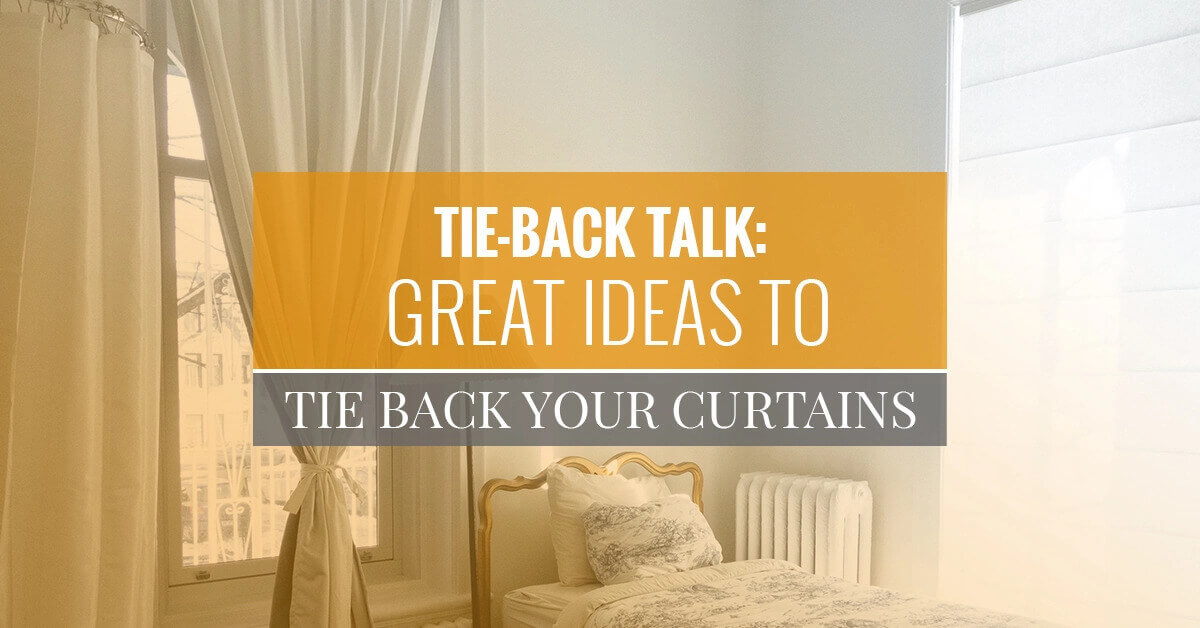 Make Sure You Start With the Right Curtains
No matter how fabulous our suggestions for tie backs might be, it won't do you any good if your curtains look less-than their best or are out of sync with your current decor. If it's time to replace your curtains, make sure you visit our online store. We have a huge selection of beautiful window treatment options that will suit any decor style. Place an order with us to take advantage of our $9.95 flat-rate shipping anywhere in Australia. Then you'll have the perfect curtains to go with your tie backs and a window treatment that looks absolutely Instagram-worthy. Shop for curtains online, include blockout and custom-made curtains, right now with Quickfit!
Now that you've purchased your curtains online, it's time to hang them in your space and add the finishing touches to complete your window treatments. Tie-backs are an important part of your window treatment; they keep your curtains in place when they are open and allow more natural light to come into your room. While they aren't an absolute necessity, they are a nice addition that adds convenience and style to your whole window treatment.
Here are some of our favourite curtain tie back ideas, based on your personal decor style.

Try These Tie Back Ideas for Your Curtains
Is your decor...
Shabby chic?
Try using a crystal doorknob for your tie back. If your curtains are particularly thick or heavy, use a velvet ribbon or rope along with the crystal doorknob to keep everything in place. For lighter or sheer curtains, you can use crystal drawer knobs instead. You'll find what you need at most home improvement stores. If you want a more romantic feel, try using old pearl necklaces. Use multiple strands, hooking them together at both ends so they are easy to attach and remove as needed.
Rustic?
If you are going for a rustic or cabin decor in your home, try using natural materials for your tie backs. A bit of rope can be knotted artfully to become a really lovely tie back. If you want a bracket, look for ones that mimic natural items, like branches of a tree or antlers. There are a lot of animal-themed tie back hooks on the market now, too, which can add a lot of character to your window treatments; just be sure it doesn't end up looking too juvenile.
Modern?
To complete your modern look, use tie backs that have clean lines and are minimal in their design. Simply metal tie back brackets are great, with copper being a very popular metal option at the moment. Using natural textures for alongside your modern decor can create a really interesting look, too, so don't be afraid to try woods or rope textures with your tie backs.
Trendy?
If your decor tends to change a lot, choose a tie-back bracket that has a shape or pattern that you especially like, then spray paint it to match your current decor. You can spray paint the bracket over and over, matching it with your current style as you change it up. That can save you money and keep your decor cohesive.
Vintage?
For a really unique look, search for vintage doorknobs at second-hand stores. You'll find some interesting options available, which you can attach straight to your wall or spray paint to coordinate with your decor. Wooden tie back hooks are also great for a vintage feel, especially if you pair them with some vintage-inspired fabric ties.
Bohemian?
Boho-chic is a popular aesthetic right now, and it's a lot of fun to experiment with because almost anything goes. If you want to add a little boho flair to your window treatments, think in layers. Add ribbons, scarves, and old necklaces to create a totally unique curtain tie back. Attached all the materials together with a big jump ring or even a ribbon to make it easy to take the tie back on and off (you don't want to be attaching 10 different items each time you open your windows, after all!).
Have you used one of our ideas for your window treatments? We'd love to have a look! Send us a photo and let us see what kind of window treatment magic you've created. We may end up sharing your gorgeous ideas on our blog!