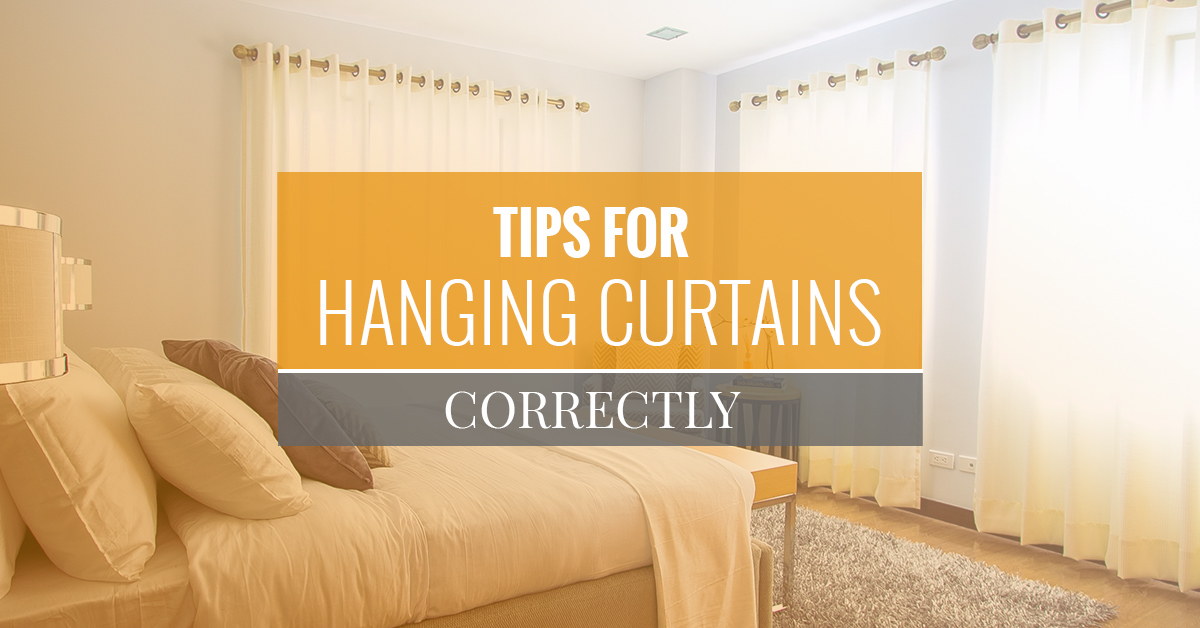 When you purchase your curtains online from Quickfit, they arrive at your door in just a few days. Even our custom-made curtains can arrive in as little as five days. And once they get to your door, it's time to get them hung up in the window to see just how wonderful they look. The process of hanging curtains, however, shouldn't be taken lightly and it shouldn't be rushed. How you hang your curtains can make or break the look of your space, so you want to make sure you are doing it right.
If your new Quickfit curtains have arrived and you are getting ready to hang them, here are some important tips to keep in mind. These helpful tips will make hanging your curtains easier and help create a room that looks professionally decorated (without spending too much!).

Put These Curtain Hanging Tips to Woark
Hang them high.
One of the most common mistakes people make when hanging their curtains is placing the curtain rod at the same level as the casing around their windows. This is going to make your windows look smaller and diminish the impact of your window treatments. Instead, place the curtain rod at least as high as the midpoint between the window casing and the ceiling. You can go higher than that if you wish, but avoid going any lower. Don't be afraid to take your windows all the way up the the ceiling!
Hang them wide.
Your curtains should be hung wide enough so that when they are open, none of the fabric overlaps the actual window but instead comes right to the edge. Hanging the curtains so they overlap the window pane will decrease the amount of natural light that comes into your space, as well as making the window look narrower than it actually is. Make sure that you purchase a curtain rod that's wide enough to accommodate both the width of your window and the addition width for the curtain panels on the sides. While wider is better, don't ruin the illusion of a larger window by allowing the walls to peak out on the inside edge of the opened curtains. Use curtain tie backs to keep them in place.
Get the right hardware.
Don't try to hang your curtains without the right hardware. Make sure you have all of the brackets, curtain rods, rings, tie backs, tracks, and screws that you'll need to complete the job before you get started. We sell many of the curtain accessories that you'll need in our online store. Get everything ready before you get started so you aren't trying to hunt for a certain screw size in the middle of the process. Invest in quality hardware, too; if you don't, you could end up damaging your walls and costing yourself more money in the long run.
Error on the side of too much.
While it's tempting to try to save on curtains by purchasing as few panels as possible, you might end up with some sad-looking curtains. Make sure that you buy curtains that are wide enough or buy additional panels to allow for some fullness when they are completely closed. You should take that fullness into account when you purchase your curtains online. We have numerous helpful guides on measuring for curtains, so make sure you read through them before you buy. If you end up running short, consider adding coordinating panels of sheer curtains to complete the look.
Use a template.
You'll want the look of your window treatments to be consistent, especially if you are hanging curtains in multiple windows in the same room. In order to achieve that consistency, create a template for yourself. Using a piece of paper or some cardboard, mark where screw holes should be drilled using the corner of your window as a starting point. If you don't want to make a template, make sure you write down all of your measurements on the first window so you can recreate it in the next windows without a lot of hassle.
Follow these tips and you'll have your gorgeous new Quickfit curtains hung in no time! If you run into any issues or have questions about hanging your curtains properly, be sure to check out our blog and other online resources for answers. We'd love to see the final look!