Posted by Emily Wang on 6th Apr 2023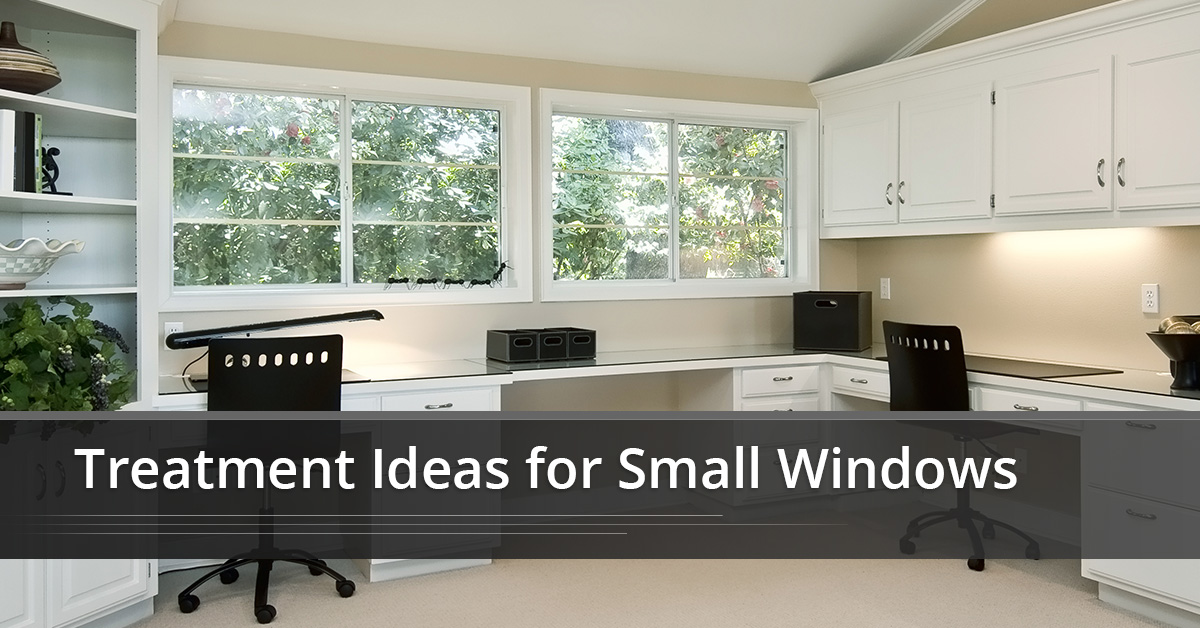 Small windows can be a great thing for your home. They allow more natural light into otherwise dark corners of your home and bring a lighter, more airy feel to the space. Those tiny windows aren't all great, though. Some small windows can leave you struggling to find the right window treatment, especially if they are in an place that's awkward to reach. That means you leave your home and furnishings exposed to fading from the sun and could even be leaving yourself exposed if that small window is peeking into your bedroom or bathroom. So how do you learn to love your small windows and give them the treatment that they deserve? The Quickfit team has some answers.

Treatment Ideas for Small Windows
Frosted Glass
If your small window is in an area where you need to have some privacy, then frosting the window could be the smart move to make. There are several ways that you can achieve this effect in your window. First, you can purchase frosted glass from your local glass shop and have them cut it to fit your window pane. If you are looking for less permanent and more affordable options, you have a couple choice. You can opt for stick lace to your window using a starch paste (you can find lots of instructions and tutorials online) or you can order stick-on sheets that adhere to your window. Frosting your windows can be great if you never need more privacy or less sunlight in the space, since once it's frosted, it's pretty much frosted for good.
Roller Blinds
Roller blinds can be customised to fit your small window and can provide a solution that allows you to block out sunlight when you don't want it and let it in when you do. Roller blinds are great for bedrooms, too, because they can block out artificial light and help you get a deeper, more restful sleep at night. Roller blinds are available in a variety of colours and styles so you can pick something that's really perfect for your home. Roller blinds are easy to clean, too, and won't take up as much space as curtains.
Custom Curtains
If the ready-made curtains you purchased from your local big box store don't fit your small window, it's time to consider custom curtains. Ill-fitting curtains will make your window look sloppy and out of place. Instead, you can measure your window and get curtains in beautiful colours and styles that are perfect for the window. This gives even a small window a polished look and provides a beautiful accent for your home decor. Curtains in a small window can turn a window that was once overlooked into a special focal point of your space.
Decorating Ideas for Small Windows
Hang curtains as high and wide as possible. The higher and wider you can hand your curtains, the bigger your window will look. You'll find more curtain hanging tips on our website.
Use ledges to showcase keepsakes. Colourful glass vases, your collection of antique mirrors, or even a knickknack that you picked up from the local thrift market will look beautiful. Use your small window as a sort of showcase for your favourite objects and let them sparkle in the sun.
Go for the minimalist look. If your small windows are high up on the wall and you aren't concerned about your privacy, skip a window treatment altogether and go for the minimalism look.
Find Great Curtains for Small Windows Online
Are you stumped about how to decorate a small window in your home? Quickfit has custom roller blinds and curtains that will fit your window perfectly. We know that windows come in all shapes and sizes and they all need a great window treatment, whether you choose roller blinds, curtains, or something else. So browse through our online selection of custom window treatments and pick the ones that are best for your space. Then simply measure your window following our instructions and we'll have your new custom window treatments on their way to you in as little as 10 days. Take advantage of our $9.95 flat rate shipping and order your new custom curtains online from Quickfit today!