Posted by Quickfit Blinds & Curtains on 1st Dec 2020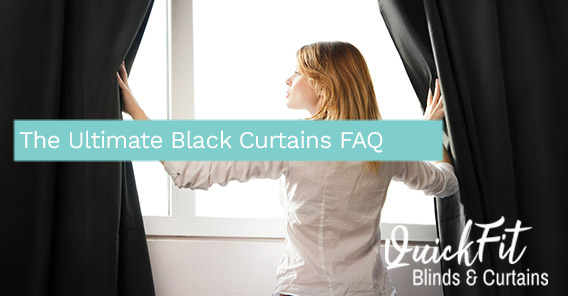 Black curtains are all the rage. Flip through interior decor magazines and Pinterest boards and you'll find that the black curtain trend is something that isn't going to be disappearing any time soon. Black curtains are a fantastic way to inject some modern sophistication, style and design into any room in the home and are also a fantastic way of blocking light out of bedrooms, bathrooms and even nurseries.
As with all things new, black curtains also happen to garner a plethora of questions that we plan on answering today. Grab a cuppa and read on to find out more about the ultimate black curtains FAQ!
Do Black Curtains Absorb Heat?
Possibly one of the most commonly asked questions about black curtains is whether they absorb heat. The quick and simple answer to this is yes. Darker colours, especially black, offer little to no reflection or heat/light and thus tend to absorb sunlight that is beaming in through your windows. Whilst this is not a huge concern for many, it is something that you should definitely research more about if you live in an area that is hot year-round or experiences extremely high temperatures in Summer.Alternatively, since black curtains help to insulate a room, you can choose to make your black curtains a Winter staple in the home, whilst opting for lighter coloured curtains in late Spring and Summer.
Are Black Curtains Fashionable?
Black curtains are indeed fashionable and are only expected to become even more popular in the coming years as the trend towards darker interiors gains momentum. Black curtains can add a sophisticated and stylish ambience to any room and is a fantastic option for those who appreciate the modern interior decor.
Do White or Black Curtains Reflect Heat?
In general, white curtains act as better heat and light reflectors than black curtains. If overheating of your home is something that is of concern, we recommend opting for white or lighter shade curtains instead. Save the black curtains for winter months or for the bedroom where they will be able to block as much light out as possible at night.
Do Black Lace Curtains and Cream Curtains go together?
They sure do! In fact, black lace curtains draped over cream coloured curtains often lend a room some regal Victorian charm with minimal effort. This is also a great compromise for those who don't want to jump straight into full black curtains.
How Do I Decorate a Room With Black Curtains?
You may be wondering how to go about decorating your rooms when you buy black curtains. Since black curtains are such a bold and chic addition to any room, we always recommend using them in a room that has light coloured walls. This is a great way to truly make your curtains stand out and make a statement. To complement your curtains, we also recommend decorating your room in a monochromatic theme for a truly spellbinding interior decor!
Which Rooms Are Best For Black Curtains?
Black curtains are absolutely perfect for the bedroom as they will block any form of light (sunlight, streetlights) from entering your room and affecting your sleep. Black curtains also look amazing in lounge rooms, home theatres and bathrooms.
How Do I Dye White Curtains Black?
Head to your local craft store and grab some fabric dye, gloves and a large basin. Next, fill the basin with enough hot water to submerge your curtains. Add your purchased black dye, ¼ cup of salt and your white curtains into the basin. Allow to soak for 30 minutes and then rinse under cold water until the water runs clear.
After this, run the curtains through the washing machine on a delicate cycle setting and then allow the curtains to hang dry. Finally, iron your curtains and hang them from your curtain rods.
Would You Put Black Curtains in a Caravan?
Black curtains are absolutely perfect for caravans as they are able to block light out very easily. You will find that most people with caravans often opt for black curtains.

Who Sang White Room with Black Curtains?
Our favourite question yet! "White Room" is a song by British rock band Cream, composed by bassist Jack Bruce with lyrics by poet Pete Brown. You should definitely give this song a listen!

-----
Have more questions about black curtains? Don't hesitate to give us a call at 0422 584 155 today!