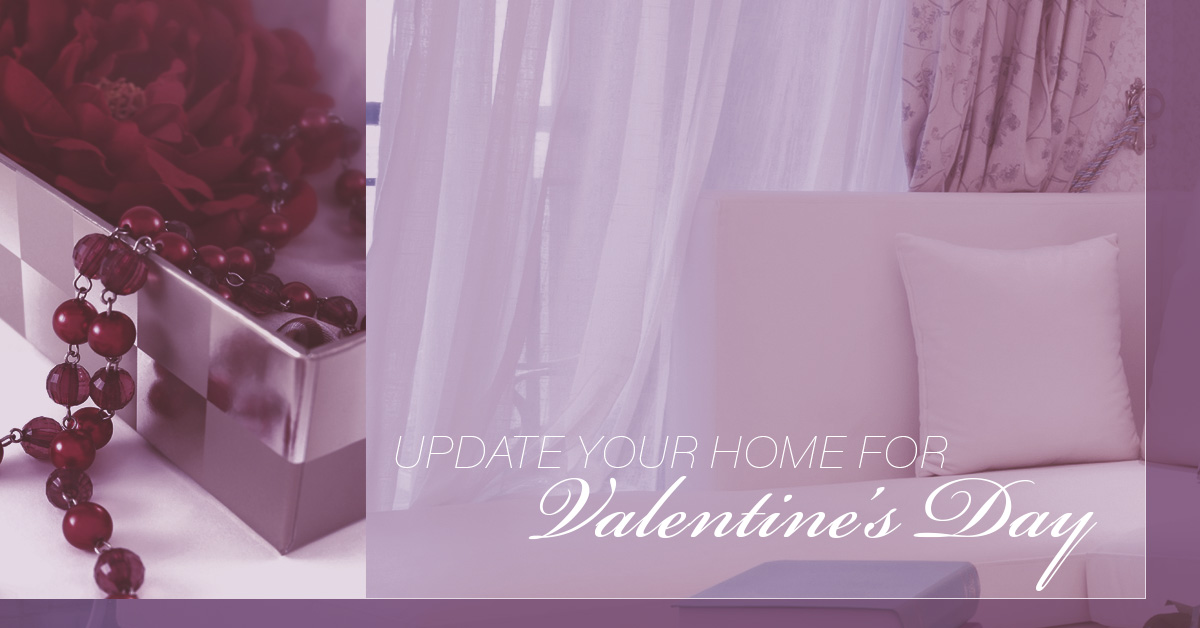 Saint Valentine's Day is just a week away! You may have noticed many businesses in the area decorating with their favourite reds, pinks, hearts, and cupids as a symbol for the love that is in the air. Valentine's Day can be a special excuse for a day of celebrating love, be it of a significant other, spouse, yourself, or your best friend. While it is not an officially recognized holiday, it is often celebrated by giving gifts or cards to your loved ones. For some this means a nice date dinner and an exchange of gifts, and for others it can be heading out to the pubs to enjoy each other's company.
Here at Quickfit, we invite those who live together to give a Valentine's gift that may be considered abnormal, but we believe it is one filled with love and sincerity: new blinds or curtains. Windows are something every house has, and window treatments are a necessity. Whether you have just moved in together or are celebrating many years, new curtains or blinds can be quite a great gift for an unsuspecting Valentine. Here's why.
3 Reasons to Gift Blinds or Curtains on Valentine's Day
Spruce Up the Home
New blinds or curtains can revamp the look of an entire room, without having to put in too much hard labour or money. At Quickfit, you can shop online for blinds and curtains that start at a very affordable price but still look exquisite.

Increase the Value of your Home
Whether you are planning on moving in the near future or have deeply planted your roots, there is no doubt that hanging new window treatments can increase the value of your home. If you choose blockout curtains or blinds, you can save money via reduced utility bills. The blockout curtains and blinds are also known as thermal curtains and blinds because they prevent excess draft from coming in the home.
Make a Nice Gesture
When it comes to Valentine's Day, your special someone just wants to know they matter to you. Giving a gift on Valentine's day is an outward sign of your love and is something we think your significant other will surely appreciate.
When you shop online for ready-made roller blinds or curtains from Quickfit, you can expect us to dispatch your order within 24 hours of placing the order. During exceptionally busy times, it takes 48 hours to dispatch the order. Then, you can expect the delivery within the given time frame depending on where in Australia you live.
Melbourne Metro - next day delivery
Sydney & Brisbane Metro - 2 business days
Adelaide Metro - 3 business days
Tasmania - 3 business days
Perth & Darwin Metro - 5 business days
All regional orders - the delivery time will take longer depending on the state and region. These delivery times should be used as a guide only. Keep an eye out for a package from Australia Post.
This means it is not too late to shop online for blinds or curtains to spruce up your home, increase the value, and make your spouse uniquely happy during this lovely celebration. Bonus points to you if you manage to hang your new window decorations without the gift-recipient noticing. But, even if he or she notices you working, we hope they are still surprised and enthusiastic about your thoughtful gesture!
Nothing symbolizes love like putting time, effort, and a little bit of elbow grease into making your home a better place to live.
Happy Valentine's Day from Quickfit to you!