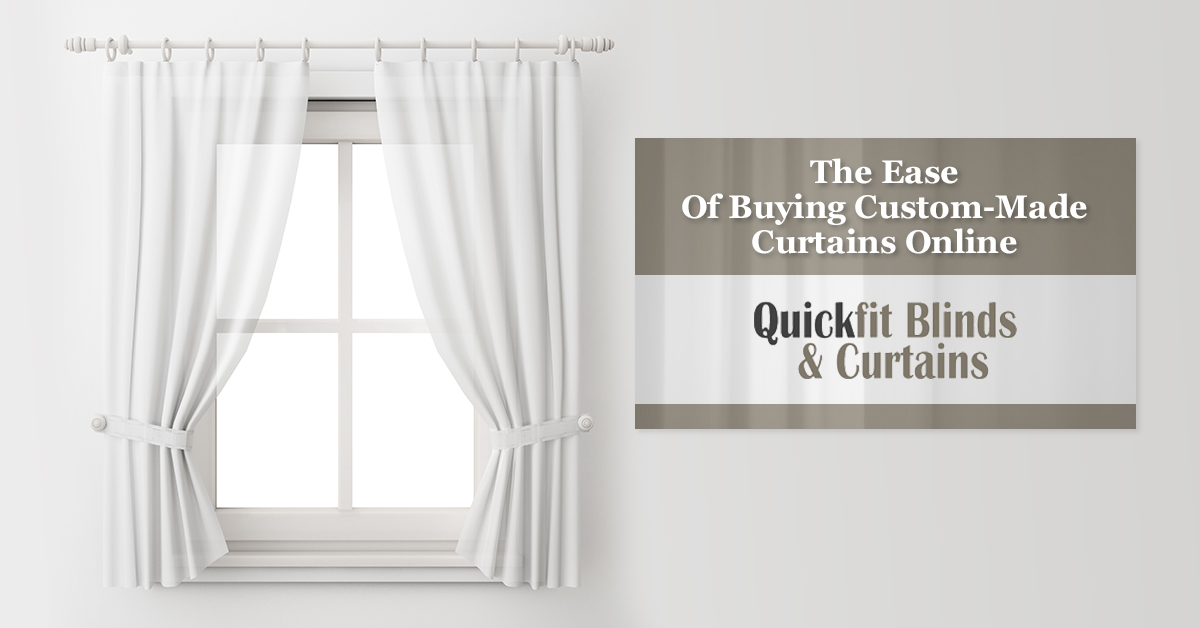 Windows are an outlet to the outside world, a day-dreaming escape for people cooped up inside an office, or a place where sunlight can shower the inside of a home. Windows provide the perfect spot of sunlight on the carpet for a kitty cat to snuggle up and nap. Windows are the barrier needed to protect people inside as they watch a winter storm rage through town. We love windows, but more than that, we love to decorate windows. The blinds and curtains you can find online can make a difference in your home or office. There are plenty of ready-made curtains waiting to be found, purchased, delivered, and hung. More than that, though, there are custom-made curtains waiting to be designed perfectly for a specific home, office, or other great window.
The Ease of Buying Custom-Made Curtains Online at Quickfit
When it comes to buying a custom-made curtain online, there are some handy things to keep in mind. The beauty of custom-made curtains lies in the designer. Here at Quickfit, we don't get too crazy with the customization, but we offer homeowners, interior designers, business owners, and all others the opportunity to choose a fabric, the colour, the header style, and the dimensions to create the exact curtain panel they desire.
There are many options for creating a custom curtain, but Quickfit makes it our mission to ease that process to just a few clicks of the mouse.
Select the Fabric
Shoppers, give yourself plenty of time to browse through the many awesome curtain fabric options available for custom curtains online at Quickfit. To give you a sample, there are sheers, blockout, textured, two-toned, and coloured curtain fabrics.
Choose the Style
Eyelet, Reverse Tab, Pinch Pleat, and Pencil Pleat are the four custom curtain style options at Quickfit. Check out this post for more information about the different curtain styles.
Submit the Measurements
It is important to properly measure for custom curtains. Follow this Custom Made-to-Measure Curtains Measuring Guide for our best suggestions.
You'll need to fill in these blanks:
Track or Rod Width (cm)
Height (cm)
Yes or no: Is your length/drop over 245 cm?
Decide on an Opening
Do you imagine the curtain panels opening from the centre or from the side? A centre opening means you will need two curtain panels to split and frame the window. A side opening is most likely going to be a larger panel that slides to one side or the other to reveal the window.
Opt for Tie Backs
Yes or no: Do you want tie backs included on your custom-made curtains? We love the clean look of curtains tied back from the window. If you're not a fan, though, click no! That's the best part of creating your own curtains -- you get to make all of the decisions.
Calculate the Price
The cost of custom made-to-measure curtains online depends on the width of the curtain panel you desire.
Width 0cm-100cm
Width 101cm-200cm
Width 201cm-300cm
Width 301cm-400cm
Width 401cm-500cm
Width 501cm-600cm
Remember the Hooks
If you choose a pinch or pencil style of curtain header, you'll need hooks to hang the panel. These can be added to any custom curtain purchase for $9.95.
Complete the Order
The turnaround time for custom curtains is quick at Quickfit! From the moment you finish the checkout process, the curtains will be delivered to your door step within 10 days from our home base in Melbourne.