Posted by Emily Wang on 6th Apr 2023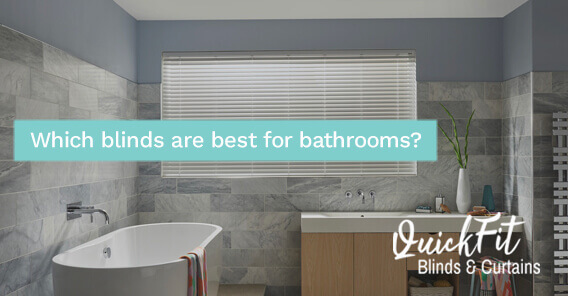 Bathrooms are the one room in which the most privacy is needed in most households. At the same time, choosing the perfect bathroom blinds or curtains for a room which is often humid, wet and warm can prove to be challenging. If you're renovating your home or simply looking to upgrade your bathroom, this is the article for you. Today, we have a look at some of the best blinds for bathrooms in a bid to make your choice just that much simpler! Read on to find out more!
Timber-Look Venetian Blinds
For those who want to add some rustic charm with their bathroom blinds or curtains, timber-look Venetian blinds are usually the go-to. Also known as PVC Venetian blinds, this timber-esque option is water-resistant, highly durable and doesn't warp, dent, twist or fade. This makes it ideal for the bathroom where temperature and humidity levels often fluctuate, and also offers a more stylish solution to the standard boring black or white blinds. Another added bonus is that bathroom Venetian blinds are incredibly easy to clean with a damp cloth or a brush vacuum head!
Roller Blinds
Yet another incredibly popular option for bathroom window treatment is the humble roller blind that sits flush on any window. Roller blinds not only provide privacy but also offer fantastic UV protection which can be important if your bathroom is a room that receives a fair amount of sunlight throughout the day. Roller blinds are easy-to-use and also come in a wide range of colours and materials meaning you can customise your blinds to fit the aesthetic and style of your bathroom perfectly. It is important when choosing your bathroom blinds to ensure that you select a waterproof variety to ensure that your blinds don't warp, dent or collect mould over time.
Blockout Blinds
Bathroom blockout blinds are a suitable option for those who live on a busy street that has the potential for a number of passers-by throughout the day. The best way to ensure your privacy in such a situation is to select block out blinds that you can assure will provide you with all the security you're looking for. One thing to note is that if you choose blockout blinds for your bathroom, it is important that you ensure your bathroom is well ventilated to prevent condensation from forming on your blinds (no one needs a fogged-up mirror when they're in a rush to get ready and head out the door!).
Honeycomb Blinds
If your bathroom is one that doesn't suffer from ventilation issues, honeycomb blinds may be the perfect option for you. Honeycomb blinds are available in a wide range of different model options, colours and styles. The benefit of honeycomb blinds is that they offer the best of both worlds in terms of privacy and light control. This variety of blinds come in both block out and opaque fabrics, allowing you to control how much light streams into the room. They are also incredibly easy to clean with a soft vacuum brush head and a damp cloth and will last you a lifetime!
Vertical Blinds
If you're lucky enough to have a large bathroom with a full-sized window, vertical blinds should be your go-to. Vertical blinds offer extra privacy in larger spaces with their striking linear design feature. Vertical blinds are also easy to control in terms of privacy and light and one of the great things is that they can be pushed aside when you don't need them. This allows you to enjoy a direct stream of sunlight as you soak in the bath for that perfect sun-kissed afterglow. Vertical blinds are also fantastic at providing added insulation during the winter months, meaning your bathroom will be a warm, comforting and toasty environment all year long (no more shrieks of terror when you step on freezing bathroom tiles!).
Aluminium Shutters
Your bathroom is yet another room in the home where you can flex your creative style, so why not treat it with as much attention and detail that you would any other room? For those who are looking for a stylish bath area, aluminium shutters are a great option. Aluminium shutters offer a durable, effective and practical solution to window treatment with the added benefit of style. Aluminium shutters are also easy to operate, allow you to customise light control and are an absolute cinch to wipe clean -- perfect for those who want to add some practical lux and decor to their bath area.
_______
And there you have it -- a myriad of bathroom blind options for your home. Regardless of which option you choose, we are certain that any of these blinds will offer you the adequate levels of light, privacy, luxury and style while still remaining practical, effective and easy to clean.