Posted by Emily Wang on 6th Apr 2023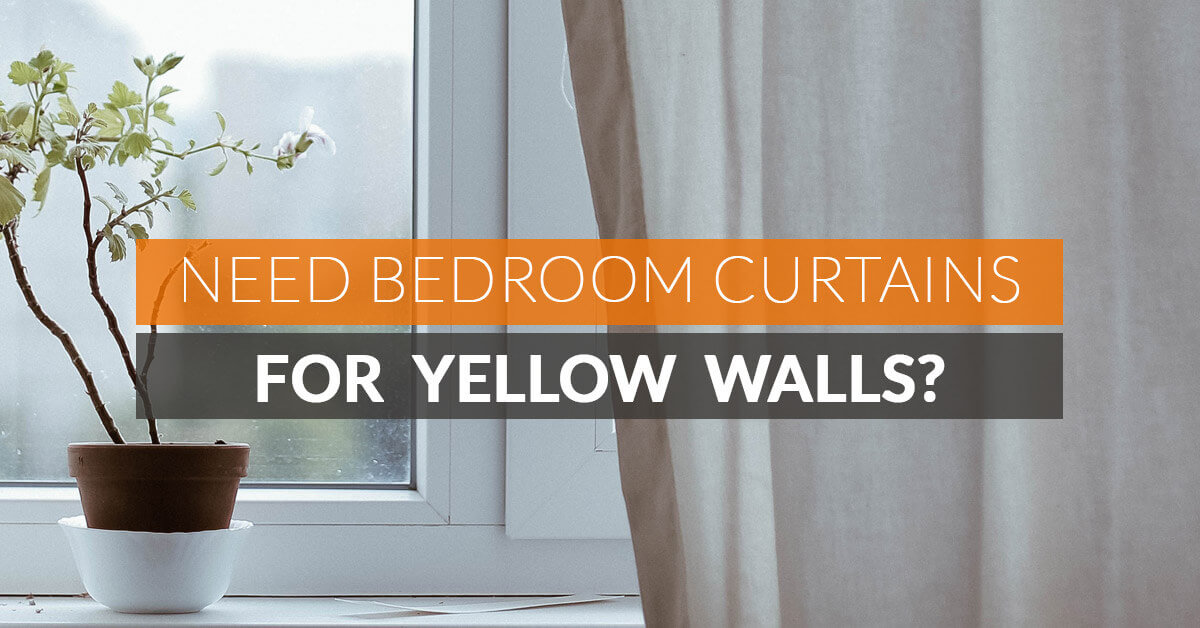 Who says that the walls in your home have to be painted a boring colour to be stylish? Many homeowners across Australia are stepping outside of the box and incorporating bright, bold colours into their interior design, and some are even painting their bedroom walls yellow. Whether you are a fan of this colour or not, it is hard to argue the warming effect it can have on your space. However, you might find yourself stumped as you try to find the right bedroom curtains for yellow walls, or maybe you want to shop by colour?
Fear not — Quickfit Blinds & Curtains has the window treatments you are looking for! Check out a few suggested colour combinations below and shop our incredible selection of curtains online today!
Ideal Curtain Colours for Yellow Walls
White, Black, or Grey Curtains
Since yellow is considered a somewhat nontraditional colour for interior walls, many people choose to buy neutral-coloured window treatments to pair with them. You can't get any more neutral than white, and the contrast of white curtains on a yellow wall creates a clean and fresh appearance that is stunning. Grey curtains and black curtains also pair very well with yellow walls, and the combination of a dark colour and a bright colour tends to add a more dramatic appearance to a space. No matter which route you choose, neutral colours almost always go well with yellow.
Orange or Red Curtains
Yellow walls by themselves add an undeniable element of warmth to a bedroom. When they are paired with analogous-coloured curtains, the heat is turned up a notch. Since red, yellow, and orange are right next to each other on the colour wheel, they are a perfect match for creating a fiery colour palette. If you want to keep the colours in your bedroom on the lighter side of the spectrum, orange curtains are a wise choice. Otherwise, there is no better way of injecting romance and passion into your room than with red curtains, and they look incredible up against yellow walls.
Yellow Curtains
We know what you are thinking, but yellow curtains and yellow walls can be pulled off and they can look great with the right approach. Choosing curtains that are the same shade of your wall might seem like the easiest route to go, but it won't provide the most appealing aesthetic. Rather, we suggest choosing yellow curtains that are either a shade lighter or a shade lighter than the colour of your walls. Likewise, you can choose a patterned colour that features a shade of yellow that is similar to your wall colour, which is guaranteed to give your room the "wow" factor you have been aiming for.
Blue, Green, or Purple Curtains
Do you love the idea of creating stark a contrast in your bedroom, but aren't too keen on using grey, black, orange, or red curtains to achieve the look you are after? If so, then choosing colours that are complementary to yellow is a great alternative. Purple is directly across the colour wheel from yellow, and pairing it with yellow walls is a sure way to create a vibrant contrast in your bedroom. Blue curtains also pair well with yellow walls, and green curtains create an earthy type of contrast that is absolutely gorgeous.
Many people shy away from choosing complementary colours because they feel intimidated by finding just the right shade to match their walls. The key to working with these types of colours is to ensure their richness matches that of the yellow on your walls. For example, if your walls are pale buttercream yellow, choose a pale complementary colour. If your walls are a bold yellow-gold, your complementary-coloured curtain should be equally as bold.
Shop for Bedroom Curtains Online
If you love the look of the yellow walls in your bedroom, but you are having a hard time finding the right colour of curtain to make them pop, don't worry. Quickfit Blinds & Curtains carries curtains in a wide variety of colours, and we are confident that you will find the right bedroom curtains for yellow walls when you shop our online store. We are even happy to provide you with free fabric swatches and no-hassle returns to ensure that you find the right curtains for your space. It doesn't get any better than that! Shop our expansive inventory today to discover an entire world of possibilities for your home.