Posted by Emily Wang on 19th May 2023
Securing stylish and practical window treatments for your home can see homeowners sorting through a wide range of different options. From browsing through ready made curtains online to examining custom fabrics, selecting the ideal window coverings for your home design can be a surprisingly difficult task, especially if you're looking to use a uniform curtain design across all of your windows.
Thankfully, there are some trusted brands that you can rely on to provide only the best quality fabrics and curtain designs. Both Spotlight and Quickfit Blinds & Curtains are amongst this collection of trusted retailers. Spotlight and Quickfit have both developed glowing reputations for providing Aussie home designers with top quality fabrics and designs at competitive price points. Similarly, you can shop for curtain fabrics online with both retailers, and even order custom-made curtains to provide your home design scheme with a more personalised touch.
But which retailer should you go with if you're looking for specific types of curtains? This is exactly the question that we're seeking to answer in our comparison guide below. Read our in-depth comparison Spotlight and Quickfit curtains below to help simplify your curtain selection process.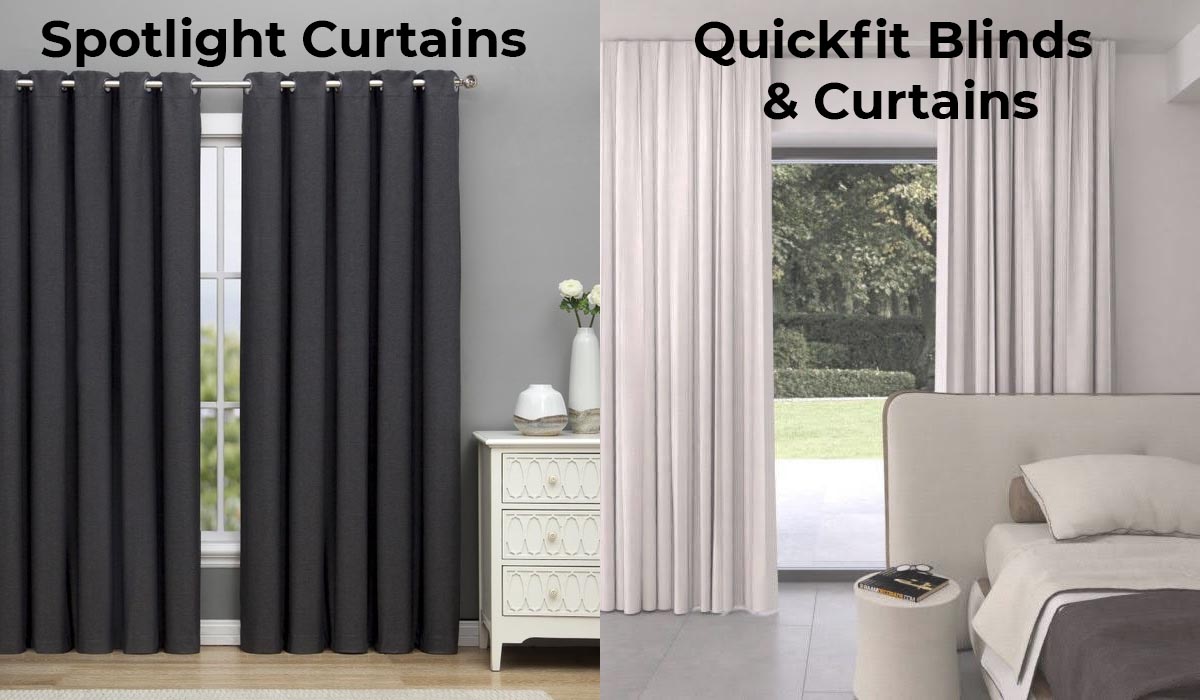 Spotlight Curtains Overview
Spotlight is renowned for being Australia's largest supplier of fabrics and other crafts essentials. In recent years, they've expanded their selection of fabrics to also include materials for producing homewares like couch cushions, curtains, and even bedding. Nowadays, you can order custom-made curtains through Spotlight, taking your pick of a range of different curtain fabrics.
Being a crafts and fabric store primarily, Spotlight offers its shoppers the opportunity to purchase curtain fabrics by length, providing prices per metre. You also have the option to purchase traditional curtain fabrics like sheer voile materials, or to shop a selection of colourful, patterned fabrics.
Here are just some of the types of curtain fabrics that you can find on Spotlight:
Thermal curtains – most of Spotlight's thermal curtains are made with cotton and possess a thermal backing
Sheer and lace curtains – Spotlight's sheer and lace open-weave curtain fabrics are usually composed of 100% polyester
Blockout curtains – Spotlight's blockout curtains are usually composed of 100% polyester and are fitted with a black blockout backing.
As Spotlight cuts their curtain fabrics by the metre, it's imperative that customers measure their windows before they place their order, and check for fabric widths when selecting from Spotlight's catalogue. Any errors with measurements can result in your purchased fabrics being too narrow or short.
Quickfit Blinds & Curtains Overview
Unlike Spotlight, Quickfit Blinds & Curtains doesn't have any physical storefronts. Although this makes it a little more difficult to get a feel for fabrics, Quickfit have effectively alleviated this concern by providing their customers with free curtain fabric swatches. These free swatches simplify the process of selecting the right fabrics for the curtain styles that you're looking to introduce into your own home.
In comparison to Spotlight, Quickfit undeniably offers a larger assortment of different curtain styles. This is largely because Quickfit is a dedicated curtains and blinds retailer. Rather than simply selling curtain fabrics by the spool, Quickfit cut their custom-made curtains to a customer's provided dimensions so that they're ready to hang up right out of the box. Both this convenience and Quickfit's consistently lower prices, make Quickfit Blinds & Curtains one of Australia's most popular online curtains and blinds retailers.
Quickfit also provides customers with the option to purchase curtain accessories like rods, tracks, brackets, and finials. Quickfit's range also caters to both home design purposes as well as commercial settings, as their collection of commercial curtains have been designed to be hung in retail spaces, photography and arts studio spaces, and even in hospitality establishments like pubs and cafes.
Alongside their expansive range of different curtain styles, Quickfit has also invested in the development of resources for both their customers and Australian home designers to use. With its curtain measurement how-tos and curtain style guides, Quickfit is just as much a digital resource as it is an online store.
Spotlight Emerald Hill Vs Quickfit Skagen – Custom Made Blockout Curtains
| | | |
| --- | --- | --- |
| | Spotlight Emerald Hill | Quickfit Skagen |
| Price range | $120-230 | From $85 |
| Size range | 80-340 x 230cm | 50-800 x 280cm |
| Colour options | Silver/ Charcoal/ Mist | Light Grey/ Light Pink/ Denim/ Espresso/ Natural/ Linen |
| Star ratings | ⭐⭐⭐⭐ | ⭐⭐⭐⭐⭐ |
| Delivery fees | $7.99 metro | $9.95 flat rate |
| Value for money | Good | Very good |
When comparing Spotlight and Quickfit blockout curtains, there are a few factors that need to be considered: the fabric material, weave style, and the quality of each curtain panel's blockout capabilities.
There are typically two different types of blockout curtain: those that use triple weave blockout technology and those that use an acrylic blockout backing. Spotlight's Emerald Hill curtain fabric panels opt to use a specialised blockout backing, which allows the curtains to maintain an even and heavy hang alongside providing blockout capabilities.
Contrastingly, Quickfit's Skagen blockout curtains have been constructed with a tightly woven triple weave design that not only makes the curtain panels lighter, but still thicker, allowing for improved noise and heat insulation.
Quickfit's Skagen blockout curtains are available in a range of different curtain header styles, whilst Spotlight's Emerald Hill curtains are available in just a pinch pleat hang. Quickfit's Skagen curtains also possess more colours than Spotlight's Emerald Hill curtain fabric collection, which is only available in three neutral tones.
In terms of pricing, both curtains are available at similar costs per each size option, but Quickfit Skagen curtains are available at far greater lengths than Spotlight's Emerald Hill collection. If you're looking to secure custom-made blockout curtains for larger, irregularly shaped windows or multi-storey windows, Quickfit's selection is likely to offer you more value.
Spotlight Elegance Vs Quickfit Sorrento – Decorator Curtains
| | | |
| --- | --- | --- |
| | Spotlight Elegance | Quickfit Sorrento |
| Price range | $25 per metre | From $89 |
| Size range | 140cm width | 250cm width |
| Colour options | Blue & Gold/ Pearl/ Charcoal/ Orange/ Grey/ Gold | Latte/ Black/ Ecru/ Off-white |
| Star ratings | ⭐⭐⭐ | ⭐⭐⭐⭐⭐ |
| Delivery fees | $7.99 metro | $9.95 flat rate |
| Value for money | Good | Very good |
When it comes to securing decorative curtains for your home, it can be all too easy to forget about functionality. After all, the best window coverings are those that not only enhance your home's design scheme, but also ensure warmth and comfort throughout your home's interior spaces.
Spotlight does have an expansive collection of decorative curtain fabrics, ranging from whimsical patterns to timeless jacquard designs. For the purpose of this comparison, we'll be looking at the main selling points between two of the most popular decorative curtain styles on both Spotlight and Quickfit. For Spotlight, this will be their collection of Elegance decorative curtain panels, and for Quickfit, their Sorrento two-tone decorative curtain panels.
Once again, Quickfit's curtain panels are available at a wider width than Spotlight's equivalent curtain fabric styles. This makes Quickfit's Sorrento decorator curtains an ideal selection for those looking to cover larger statement windows.
As for colour options, Spotlight's Elegance curtains do have a more varied range as their fabrics are available in both bold and neutral shades. On the opposite end of the spectrum, Quickfit's Sorrento range is designed to blend into the background and offers just neutral shades in two contrasting tones.
Spotlight Vs Quickfit: Sheer Curtains Comparison
Spotlight Sheer Curtains
Quickfit Sheer Curtains

Sold as

Per pair
Per panel/ per pair (depending on curtain)
Free swatches
No
Yes
Colour options
Beige

Light grey / turquoise

Pebble

Nature
Truffle
Grey

Fabric selection
⭐⭐
⭐⭐⭐⭐⭐
Delivery fees
$7.99 metro
$9.95 flat rate
Value for money
Good
Very good
If you're looking to hang blockout curtains in your home, it's common to seek out sheer curtain panels to be installed directly behind your thicker blockout panels. Layering sheer curtains behind blockout curtains allows you to experience both the privacy of blockouts with the natural light availability of sheer panels. In short, layering these two curtain styles allows you to enjoy the best of both worlds.
With that, the quality of a curtain seller's sheer curtain selection tends to say a lot about that retailer themselves. So comparing Spotlight and Quickfit's own selections of sheer curtain panels is vital to completing this thorough comparison guide.
Both Spotlight and Quickfit offer express or made to measure curtain options for their range of sheer curtains. However, whilst Quickfit offers over a dozen different styles of sheer curtains in a range of different colours or shades, Spotlight's made to measure sheer options only include a handful of styles. If you're after a larger variety of Spotlight sheer curtain styles, you will need to shop by fabric rather than use their express made to measure curtain order process.
Quickfit's sheer curtain collection is also available in a range of different header styles, whilst Spotlight's sheers come only in eyelet or the traditional pinch pleat hang. Both Spotlight and Quickfit offer their customers the opportunity to purchase curtain rods alongside their sheer curtains, however, making ease of installation more or less similar between both brands.
And whilst Quickfit have typically offered longer or wider curtain lengths in other styles, Spotlight takes the cake for the longest sheer curtains between these two brands. Spotlight's sheer curtains have a maximum drop length of 315 cm, whilst Quickfit's sheers fall to a maximum of 250 cm long.
Spotlight Curtains Vs Quickfit Curtains Roundup
Whilst Spotlight may possess a far greater range of patterned curtain fabrics, these fabrics aren't ready to hang directly out of the box. Quickfit, on the other hand, provides a more convenient design process, as Quickfit customers can receive everything they'll need to hang up their curtains in just the one delivery – from curtain rods and wall or ceiling brackets, to curtain tracks, finials, and more.
If you'd like to customise your window coverings, Spotlight's range is sure to please, even if you'll receive minimal support with your installation process. And if you want a no-nonsense and hassle-free approach to your curtain hanging and shopping process – Quickfit's exceptional quality and expansive range of curtain fabrics and styles will undoubtedly have a few window covering options that pique your interest.
If you want to compare other brands, feel free to read our full curtain brand comparison article.