Posted by Emily Wang on 6th Apr 2023
Grey is the new black, or at least that is how it seems in the interior design world. The neutral colour is so popular that homeowners across Australia are painting their walls in various shades of it, and some are even replacing their old, outdated carpet with new, modern grey carpet. That has left a lot of our customers wondering what colour curtains go with grey carpet, and in today's post, we'll review just that. As your go-to source for the best value blockout eyelet curtains and roller blind deals in Australia, you can count on the team here at Quickfit Blinds & Curtains to provide you with unsurpassed quality and affordability in window treatments that look great with virtually any design scheme. Shop online with us today!

Best Colour Curtains for Grey Carpet
The great news is that you can successfully pair almost any colour with grey since it is a neutral colour. We have found that some colour combinations are more popular than others, including grey carpet with blue, white, black, and red curtains.
The best colours curtains for grey carpet are
The colour blue is associated with a sense of calmness, serenity, and peace. Not surprisingly, many interior designers use this colour in their work to reduce stress, create order, and promote relaxation. Grey is also a very soothing, classic colour, and when paired with blue, the result is a colour scheme that works wonders for calming the spirit. If you have grey carpet in your guest room or another room in your home and you would like to achieve a space that is ideal for rest and reflection, blue curtains are the way to go.
Homeowners often choose grey carpet because it coordinates well with so many different colours. However, not everyone likes a bright pop of colour when it comes to their window treatments, and some might prefer a more understated colour scheme. For those, pairing neutral-coloured curtains with grey carpet works well, creating a stunning, clean-looking aesthetic that can make a room feel bright and airy. Sheer white panels can further accentuate this airy appearance, adding a whimsical element to the room.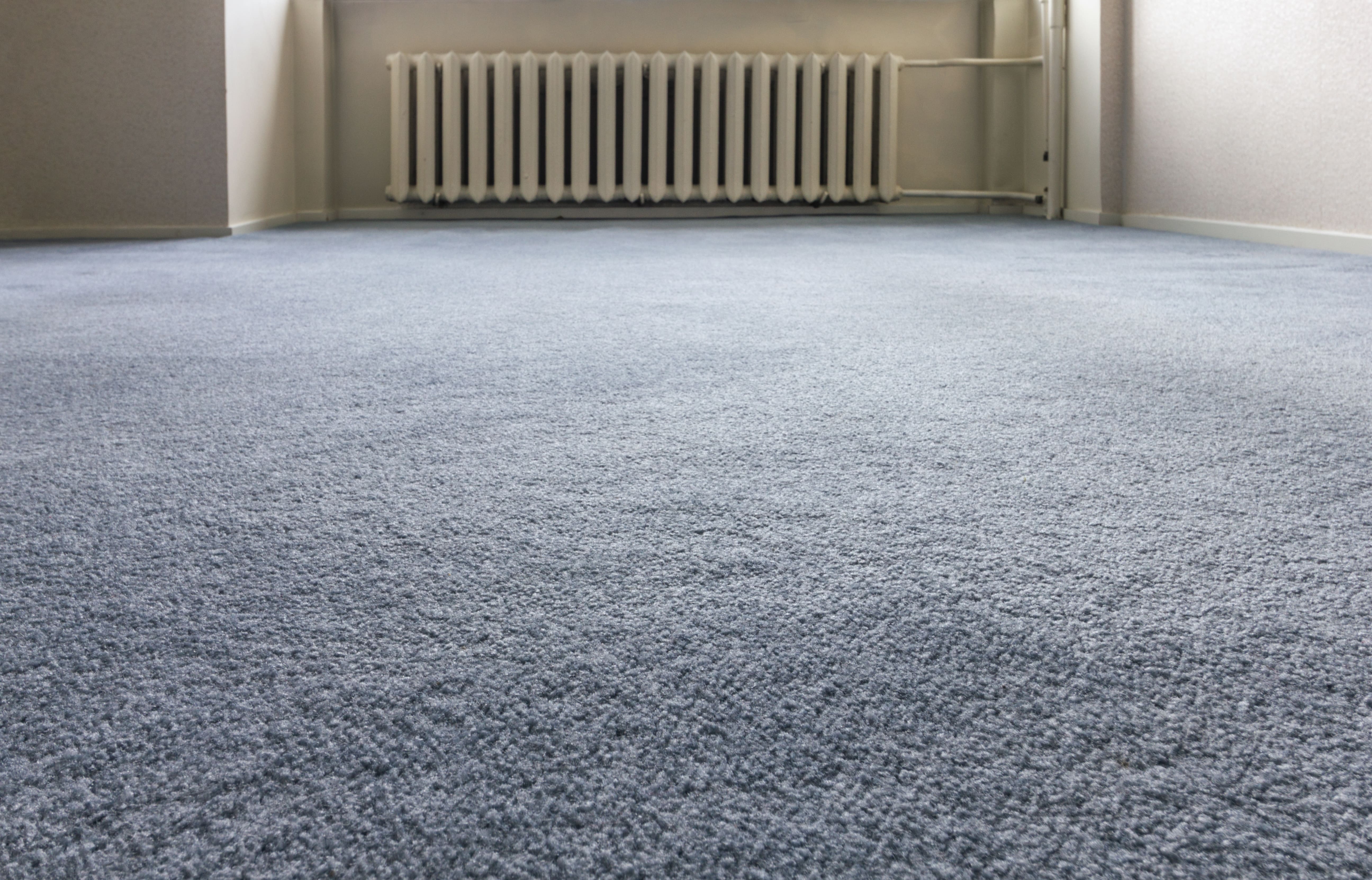 If you want to add sophistication and elegance into your home, a sure way to do so is to incorporate a monochromatic colour scheme into your decor. For example, black and grey are virtually one in the same colour. The only difference is that black is darker than grey. Pairing black curtains with grey carpet will inject an element for formality and elegance into a space unlike any other colour combination, making it a perfect design choice for formal dining rooms and home offices.
While many people like the soothing aesthetic of blue and the classic pairing of two neutral tones together, others might prefer a more bold colour scheme in their homes. If bright, rich colours are more your thing, why not pair show-stopping red curtains with your grey carpet. Red is the colour of passion and romance, and when paired with a timeless and practical colour like grey, a unique design element is born. This colour combination is great for injecting life into formal living rooms and a little bit of spice into master bedrooms.
Just because you've chosen grey carpet doesn't mean to say that you can't still have grey curtains. Grey curtains are an excellent addition to any neutral or classic interior design scheme and will give your windows a simple, timeless and luxurious look.
Using curtains in a similar, complementary grey shade will give your space a sense of uniformity and minimalism. Opt for a grey that is a few shades lighter or darker than your carpet to avoid everything in the room blending in too much. When choosing lots of similar shades in one room consider choosing multiple fabrics and layering textures. Introducing different textures is important when adding visual interest to a monochromatic interior design scheme.
If you're choosing a complete grey-on-grey look then why not go all out, incorporating other grey interior accessories to the space such as grey velvet cushions or a plush grey throw to add comfort to your armchair or couch.
Shop for Curtains Online
Wondering what colour curtains go with grey carpet the best? Whether you choose blue, white, black, red, or another colour of curtain, you can't go wrong when you buy your window treatments from Quickfit Blinds & Curtains. From our secure online shopping and free fabric swatches to our no-hassle return policy on ready-made items, it has never been easier to dress your windows in affordable, modern styles. Shop our amazing assortment of curtains and blinds today to discover incredible savings and find the right ones for your home!