Posted by Emily Wang on 19th May 2023
Finding curtains and blinds at reasonable price points can see many of us scrambling to all corners of our favourite furniture and homewares stores. But in the hunt for a discount, it can be all too easy to forget about value and quality. After all, you want your window coverings to last for decades to come, not to rip or tear with even the slightest snag.
Thankfully, there are a range of curtains and blinds retailers that you can trust here in Australia. Whilst some may specialise in curtains and blinds directly and offer their customers the option to secure custom-made curtains, others may provide pre-packaged designs that can be hung up directly out of their box, so to speak. Both options certainly have their appeal and many who are in the market for curtains and blinds will likely have their own preferences.
Prospective curtain buyers can expect to find themselves browsing through the curtain collections boasted by both Kmart and Quickfit Blinds & Curtains during their shopping journey. If you're thinking of purchasing curtains from either of these retailers, it certainly pays to do a little research to determine what you can expect from their products. That's exactly why we've put this comparison guide together: to help you streamline the search for curtains and blinds to install in your home.
Read on to unearth the top selling points between Kmart's curtain panels and Quickfit's own curtains and blinds.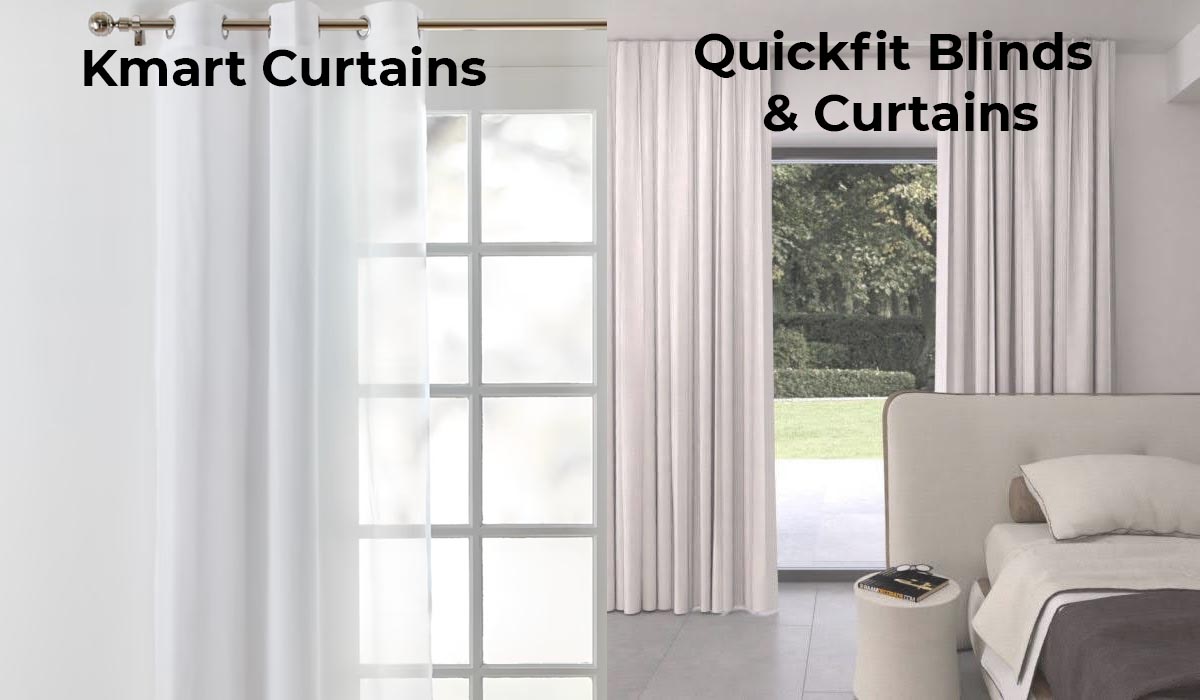 Kmart Curtains Overview
Kmart is well-known for offering modern homewares, some flat pack furniture, and a hodgepodge of other goods at some of the lowest prices in Australia. As Kmart stocks a wide range of other products, it's no surprise that their selection of curtains and blinds is more on the modest side. All together, Kmart stocks under 20 different curtain styles and colours, and only about half a dozen different venetian and roller blind styles.
This humble collection is accompanied by alarmingly low prices. This can be a major selling point for shoppers who are operating on a tight budget, or even home designers who like to change the look and feel of their home spaces regularly. Simply put, if you're looking to create a particular aesthetic with minimal cost investment, Kmart's range of curtains should be satisfactory.
Kmart does not offer any custom services for curtain shoppers, so options are fairly limited for those looking to cover larger windows. Similarly, Kmart's range of curtain fabrics is also incredibly limited both in comparison to Quickfit and other curtain retailers. The majority of Kmart's curtains have been made with polyester and polyester blends, with their range of blockout curtains fitted with an acrylic blockout backing. If you're looking for particular curtain fabrics like velvet, cotton, or linen, then Kmart's curtain collection is not for you.
Quickfit Curtains Overview
Quickfit Blinds & Curtains has been a reputable retailer in Australia for over a decade now. Their online store is renowned for stocking a wide range of curtains and blinds in a variety of styles, colours, and fabrics. Quickfit offers shipping Australia-wide and also provides their customers with free curtain fabric swatches upon request to support them through their buying process.
Unlike Kmart, Quickfit offers their customers the opportunity to purchase made to measure curtains and blinds in a variety of styles. Ordering these custom-made curtain styles is as simple as selecting the curtain fabric and curtain header style you're after alongside inputting the size dimensions you'll be requiring for your window coverings. In short, Quickfit's customisation options ensure that curtain shoppers can enjoy a perfect and speedy (or quick!) fit with every purchase.
Alongside providing an expansive and adaptable range of curtains and blinds, Quickfit also stocks a growing selection of curtain rods and tracks as well as other curtain accessories, including wall brackets, decorative finials and rod ends. This means that you can secure a full window covering solution at Quickfit that's also perfectly customised to suit your tastes or your wider existing home design scheme.
Homeowners that are looking for a little design inspiration can also find plenty to spark their imagination on Quickfit's website, which is chock full of nifty resources. Those who are looking for a little assistance with hanging up their curtains will be sure to find some handy tips in Quickfit's measure and installation guide. And if you're looking for curtain styling tips and tricks, their dedicated design blog has been curated to be a superb jumping off point for all avid home designers.
Kmart Monaco Vs Quickfit Bond: Eyelet Curtains
| | | |
| --- | --- | --- |
| | Kmart Monaco Curtains | Quickfit Bond Curtains |
| Price range | $26-$42 | $55- 119 (panel) |
| Size range | 213cm x 120cm / 213cm x 240cm | 280cm width and cut to custom length |
| Sold as | Per panel / per pair (double width) | Per panel / per pair (depending on curtain) |
| Colour options | Taupe/Grey/Pepper/Blush/Black/Ocean | Charcoal/Black/Eggshell/Latte/Grey |
| Star ratings | ⭐⭐⭐ | ⭐⭐⭐⭐⭐ |
| Delivery fees | $10 metro / $14 regional | $9.95 flat rate |
| Value for money | Very Good | Good |
Now, let's have a look at some of the curtain styles that can be found across both Kmart and Quickfit, starting with Kmart's Monaco curtain and Quickfit's Bond, both of which are eyelet curtain styles.
Alongside both being eyelet curtain styles, Kmart's Monaco and Quickfit's Bond are also blockout curtains, meaning that they're designed to maintain a heavy, even hang and to block out external sources of light, keeping your home's interiors dark and private during evening hours. Curtains can provide blockout capabilities in one of two ways: through a tightly woven construction or by the addition of a blockout backing to the curtain fabric.
Kmart's Monaco curtain uses an acrylic blockout backing, which means that the outward-facing side of the curtain panel is white and the inward facing side is the curtain colour you've selected. Contrastingly, Quickfit's Bond curtain uses a triple weave construction which allows both sides of this blockout curtain to be the colour of your choice. An additional benefit to blockout curtains that don't include an acrylic backing is that they are machine washable. Quickfit's Bond curtains are also fire retardant and provide exceptional thermal and noise insulation due to their thickness and weightier hang.
As eyelet curtains are known for their installation-friendly design, both curtain panels can be strung up on a curtain rod with minimal effort. The eyelet style also makes pulling and drawing both curtain panels a veritable breeze.
Kmart Venetian Blinds Vs Quickfit Venetian Blinds
| | | |
| --- | --- | --- |
| | Kmart Venetian Blinds | Quickfit Venetian Blinds |
| Price range | $39-$79 | From $79 |
| Size range | 90x150cm - 180x150cm | 50-63mm slats in custom length |
| Colour options | White | White Timber Look |
| Star ratings | ⭐⭐⭐ | ⭐⭐⭐⭐⭐ |
| Delivery fees | $10 metro / $14 regional | $9.95 flat rate |
| Value for money | Very Good | Good |
Although Kmart doesn't have an expansive selection of curtains, they do actually offer an array of window blinds, ranging from blockout roller blinds to slatted venetian blinds. There are some similarities between both Kmart and Quickfit's venetian blind styles. For starters, both Kmart and Quickfit venetian blinds aren't designed with a natural timber finish but are instead a white-washed timber-look style that has been attained with a sturdy PVC construction.
PVC blinds are actually more durable than timber venetian blinds, as they're not susceptible to warping or mould growth due to excess moisture. Because of this, both Quickfit and Kmart blinds can be installed in bathroom spaces with minimal to no concerns of water damage.
As far as pricing goes, Kmart's venetian blinds are available at lower price points than Quickfit's own blinds. But these prices are for fixed size configurations, so if you are after particular dimensions, you're better off paying a little extra and securing made to measure blinds from Quickfit.
Kmart Sheer Curtains Vs Quickfit Sheer Curtains
| | | |
| --- | --- | --- |
| | Kmart Sheer Curtains | Quickfit Sheer Curtains |
| Price range | $26-$42 | $55- 119 (panel) |
| Free swatches | No | Yes |
| Header Style | Table Top/ Eyelet/ Rod Pocket | Eyelet/ Pinch Pleat/ Pencil Pleat/ Multiband/ Tapewave |
| Fabric selection | ⭐ | ⭐⭐⭐⭐⭐ |
| Delivery fees | $10 metro / $14 regional | $9.95 flat rate |
| Value for money | Very Good | Good |
The last product that we'll be comparing in this guide are Kmart and Quickfit's own collections of sheer curtains. As we mentioned earlier, Kmart's selection is substantially smaller than Quickfit's, stocking less styles, fabrics, and fewer colours.
If you're looking for sheer curtains that have been made with a particular material, you'll definitely have better luck looking on Quickfit's online store, which stocks sheer curtains made with cotton, pure linen, voile, and other fabrics. Contrastingly, Kmart's selection of sheer curtains only includes panels that have been made with polyester.
Quickfit's selection of sheer curtains are also available in a wider range of curtain header styles, whereas Kmart's are only available in tab top, rod pocket, and eyelet styles. If you're looking for sheer curtains to layer behind existing blockouts or other curtain panels in your home, you will naturally need to find sheers in a similar header style or in a flattering pinch pleat or pencil pleat style to provide additional depth and dimensionality to your window coverings. Thankfully, Quickfit's selection of sheer curtains offer their customers the opportunity to purchase curtain panels with these more traditional header styles as well as contemporary eyelet configurations.
Quickfit's sheer curtains are also available at custom lengths whereas the maximum drop length for sheer curtains in Kmart's selection is only a standard 213cm. If you're after longer sheer curtains, you'll have more luck shopping with Quickfit.
Kmart Vs Quickfit: Final Thoughts
All things considered, Kmart is an attractive budget choice for those on the hunt for curtains and blinds. However, their lack of options can be a bane to some – especially home designers working with a highly detailed vision of the design scheme they're looking to curate.
As Quickfit Blinds & Curtains is a dedicated window covering retailer, customers will find their immense range of quality products to be a breath of fresh air in contrast to budget retailers like Kmart. That being said, if you're not in need of custom curtains and blinds or are simply looking to freshen up your home design on a limited budget, Kmart's collection is sure to be more than satisfactory.
If you want to compare other brands, feel free to read our full curtain brand comparison article.