Posted by Emily Wang on 6th Apr 2023
If you've ever lived in a rental property, you know just how crucial a good set of curtains or blinds can be, not only when it comes to enjoying your new home, but also in making it feel like your very own. More often than not, rental properties are equipped with thin and flimsy blinds or curtains that have certainly seen better days, which may prompt you to swap out these old window coverings for your very own sets of sheer and blockout curtains.
But how do you install curtains in rental properties without installing fixed curtain rods? And how do you know exactly what curtains and blinds may best fit your rental property?
How To Hang Curtains in a Rental Property
We'll be answering this question and a few more in this handy little guide made by renters for renters! Read on to learn a little more about how you can transform your rental property into a cosy, little home just by hanging curtains and blinds.
The important things to know when considering how to hang curtains in a rental property are: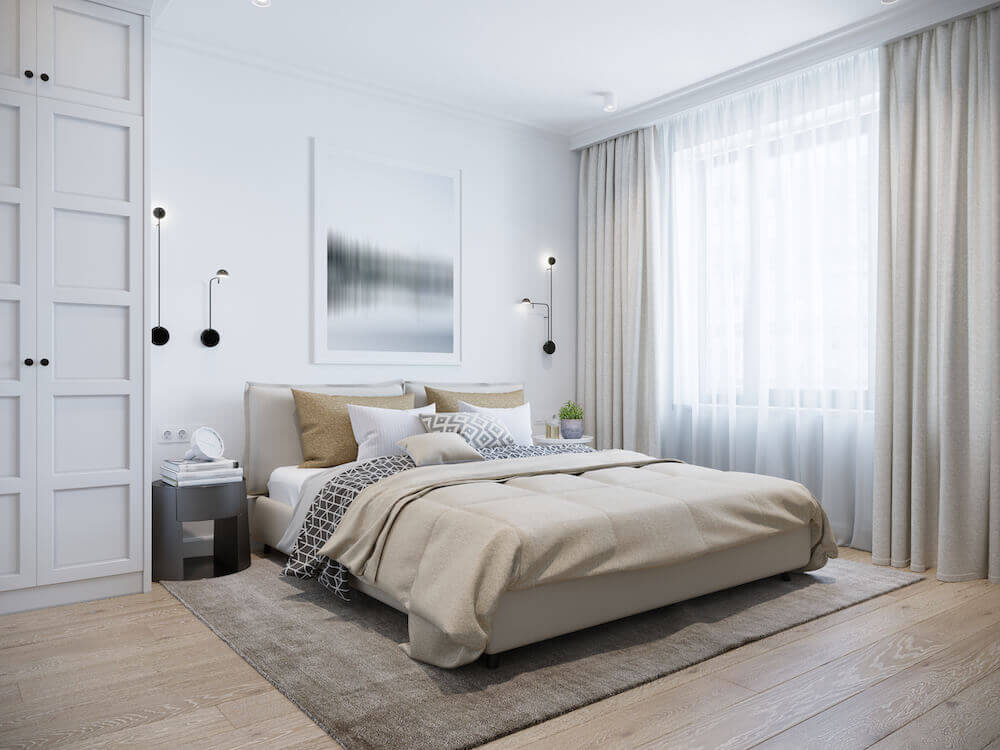 1. Seek permission from your landlord
First and foremost, you'll want to ensure that your rental provider or landlord is aware that you'll be altering or removing the window coverings that were provided with the property. This is a standard request, so it should be an easy enough task to get written consent from your landlord, as is the case with all other reasonable changes.
What won't be considered a 'reasonable change' however, is any alteration that penetrates or permanently changes the surfaces of walls in your rental property. This includes hanging hooks, screws, shelving or mounts on plaster walls, as well as installing curtain rods. You'll need to consult with your property manager or rental provider to make sure that your new curtains are compatible with the pre-existing curtain rod, if there is one already installed in your rental property.
If there is currently no rodding for easy curtain installation, you may opt instead for magnetic or adhesive alternatives that don't require any screwed installation. If this doesn't appeal to you, you could discuss installing your own curtain rod with your rental providers.
2. Source the right curtains
Once you've received permission from your landlord, it's finally time to source the curtains or blinds that you'd like to introduce into your rental property. Chances are high that your landlord has given the go ahead for curtains but potentially not for blinds, given that blind installation can be a touch trickier and may not be possible without screw installation.
If you had your heart set on a pair of curtains anyway, then this little 'how to' is just for you! Take some time to consider what style of curtain panel you'd like prior to adding any items to your carts, digital or physical. We like to say that the optimal design for curtains in rental properties is in fact the eyelet curtain. As eyelet curtains require zero curtain tracks, with the rod attaching right to the panel through its metallic eyelets, these panels are incredibly easy to install and remove. Their versatility makes them an absolute must for rental properties.
If you have selected another curtain style, such as the traditional pencil pleat curtain, you can still install these with minimal fuss using any of the curtain rods and rings available on Quickfit, or through using your own sourced curtain rod. Check out our nifty guide on hanging pencil pleat curtains for a little more insight into the installation process.
For more information on choosing the right curtain for your rental, check out our guide.
3. Choose curtains with temperature control
One constant concern that renters may have when signing a new lease agreement, is that their new home may not feel as comfortable as the seasons change. You don't want to feel the winter chill when in the comfort of your rental property, or be forced to use the heating and see your utility bills skyrocketing.
This is precisely why blockout curtains are amongst some of the most popular curtains in rental properties. The multi-layered design of our blockout curtains make them natural insulators, alongside also being great for light control too. A pair of blockout curtains will be welcome additions to the living or dining spaces in your rental properties, or any larger rooms that may require some extra temperature control.
Temperature regulation in particular, is a common concern for young families living in rental properties, especially. Thankfully, our designers at Quickfit have considered this when curating our collection of kids room curtains.
4. Consider requesting blinds in kitchen or bathrooms
Whilst your landlord may not approve the installation of new blinds in bedroom spaces, you may find that a request to hang blinds in your kitchen or bathroom spaces is readily approved by your rental providers. The reason for this is largely due to the fact that blinds are better suited to interior spaces that are prone to moisture over fabric window coverings.
This is why our white timber venetian blinds are considered to be some of the best blinds for rental properties. Their white coating makes our timber-look blinds incredibly easy to style, alongside minimising risks of sun damage, making these blinds perfectly suited to install on north-facing windows. Alongside this, the PVC construction of these blind panels inhibits water damage too.
The Final Word
If you're a landlord who's seeking answers on hanging or swapping out curtains and blinds in your rental property, our guide for landlords may be just the read for you. Head to our blog right here at QuickFit or shop our collection of stylish and affordable curtains, blinds, and curtain rods to get your new property ready to feel like a warm and welcoming home.
Enjoy this guide? Our editor also recommends: